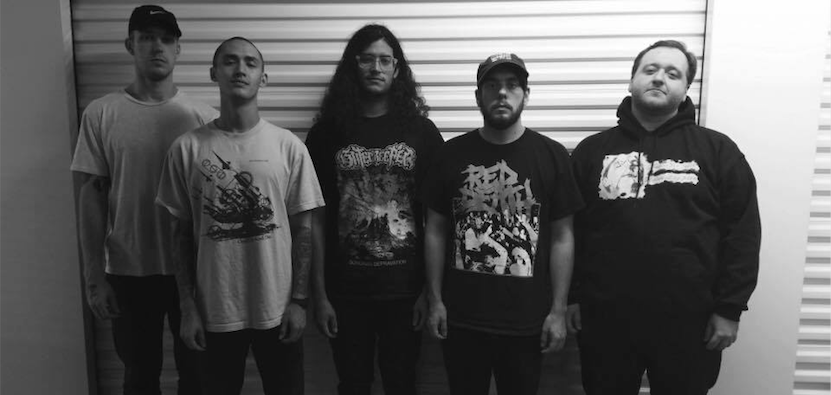 SCAD Radio talks with Nolan Mobley of Savannah band Vatican.
Vatican is a crushing straight-edge act that combine the visceral emotional content, vocal delivery and brutal intensity of metal and hardcore music.
Vatican shares the stage with bands Unearth, Zao, He is Legend and more at this February's 2017 A.U.R.A. Fest right here in Savannah, GA at the Ships of the Sea Maritime Museum.
—–
Kush at SCAD Radio: How would you describe Vatican's music to someone who has never listened to your music before?
Nolan Mobley of Vatican: We were actually a band before this. We were playing some softer hardcore music. And then we had a lot of member changes. And I think that the members that were left all wanted to make a metal band in the style of the early 2000s music. The first EP didn't even come out sounding like that, it sounds more metal. Which I'm totally fine with. Now we've got almost an entirely new lineup from when Vatican started, except for me and the singer. So at this point, it's more just metal.  We've been sitting on a ton of new songs that we'll be playing at A.U.R.A. Fest. And we just released like two newer songs on a split EP. And we've just been trying to do the same style but try out new things. Softer parts. Singing parts. Stuff that we usually wouldn't incorporate. But, yeah, now I would say just straightforward metal/hardcore type band.
Kush: Yeah, absolutely. I've been listening to your music quite a bit over the past couple days and I'm noticing a nice mix between hardcore and metalcore elements, but I'm also noticing some black metal and death metal as well.
Nolan: Our drummer Josian (Josian Benkert-Solo) is actually obsessed with death metal. He's actually doing a death metal side project with our bassist. And I think all of us have pretty different tastes in music. So, when that all comes together, it makes what we have, which is cool.
K: And would you say that there is a particular best song to serve as an entry point into your music?
N: I think our most popular one is Paingod, which among friends that we met across the country has taken on a life of its own. The beginning melody is almost funny for me to hear anymore. A lot of people say it's a great song, so I would say it's a good starting point.
K: I know you guys take a lot of influence from Zao, so what's it like to be performing on the same bill as a band that has had an impact on your music?
N: Actually, I think we wanted to rip off that style of music without ripping it off too hard when we first started. I think some of that shows regardless. When our singer found out — he actually works at the place where the event will be. He works security there and his boss is like "Oh yeah we're going to have an event here in February with your kind of music," and he starts listing off bands. So then we heard Zao and Unearth, and that was just weird in and of itself, that it would even be happening at his job. And then we played a show that Tim Walls had booked, and he asked us a couple months later, if we wanted to play. So just playing in Savannah at our singer's job with Zao is probably the weirdest, coolest thing that could happen.
K: I know your new single, Paingod, is about a struggle with depression. Is this song based off your own experiences with depression?
N: It's actually our singer's. I don't want to misinterpret his lyrics or anything. He lost his father when he was young. So, I think it's battling with depression. He tried to overcome that and find a positive at the end of it somehow.
K: Are there plans to release an EP or full length in the near future?
N: Yeah. We just streamed a few new songs that are going to be coming out on a 4-way split EP through Bitter Melody Records. That'll be on a 12-inch vinyl, which is our first big physical release which is really cool. We've been sitting on an entire full length for a couple months now. We're going to tour at the end of this month, right after A.U.R.A. Fest, actually, through the beginning of March up and down the east coast. And then the plan is, maybe a month later, go record the full length and hopefully somebody will have interest in putting that out. And if not, we'll just self-fund it and put it out ourselves. We've had songs done. Some of the songs have been done for over a year now. Like a quarter of the songs have been done for that long. So, we've just been sitting on them for a super long time. And now I think we finally have everything together, the way we want it. We're ready to just record it and put it out as soon as possible.
K: You guys are an incredibly hardworking band. You guys have constantly been touring and playing shows. So, what would you say are the biggest misconceptions about hardcore bands that are on the road today?
N: We've had good luck, as far as touring goes. I don't think we've ever come back with a negative, which is weird. We've always been able to come back with at least a little bit of money, which keeps things going. Especially this tour we did last spring, we went to California for the first time ever. I've never even been to that side of the country so it's kind of wild. We didn't spend anything on merch until we got back. I was worried that we would buy too much and not sell enough or just not make enough money. Coming back, we just all had to take 3 and a half weeks off of our jobs. Coming back, we had to start to pay bills and rent and so I was super worried about that. The band came back with a positive, but I think we all struggled to get back on our feet for about a month after that. It's definitely not easy to tour at all. It's still a cool vacation in itself, but you're still working a job basically. You just have to hope that you do well and get enough money to keep doing it after the fact.
K: Are there any major differences between playing a festival and playing something similar to a smaller show, like you did this past January at James Island, SC?
N: I think festivals are a good opportunity to expose yourself to a different audience, especially this one (A.U.R.A. Fest). A lot of the bands are — I hate to use this word — a lot more mainstream. I guess they're just a little bit more known. So, I don't expect the same reaction that I would get at playing James Island where people were paying money just to see us and our friend bands. They know what they're getting into. At a fest, there's maybe a couple people paying to see us, if any, and the rest are for the rest of the bands. We're just there to be seen by a different audience that we wouldn't be seen by otherwise. I am very excited for the sound quality because it's not very often that any sort of sound engineer does anything for our set. It's usually just us playing directly out of our amps. So basically it's new audience. Better sound. Getting to play with cool bands that we all really like. And, hopefully, free food maybe. But it's going to be a huge, different experience than we are used to.
K: What can we expect from Vatican's set at 2017 A.U.R.A Fest in Savannah?
N: Our drummer's actually been out of town for like a month now. So, as soon as he gets back, we'll be practicing hard. Hopefully, people will see the tightest set that we can play. Lots of new music that will be coming out hopefully this year. Definitely just an entertaining performance, at the very least.
—-
Be sure to catch Vatican at 2017 A.U.R.A. Fest on February 18, 2017.