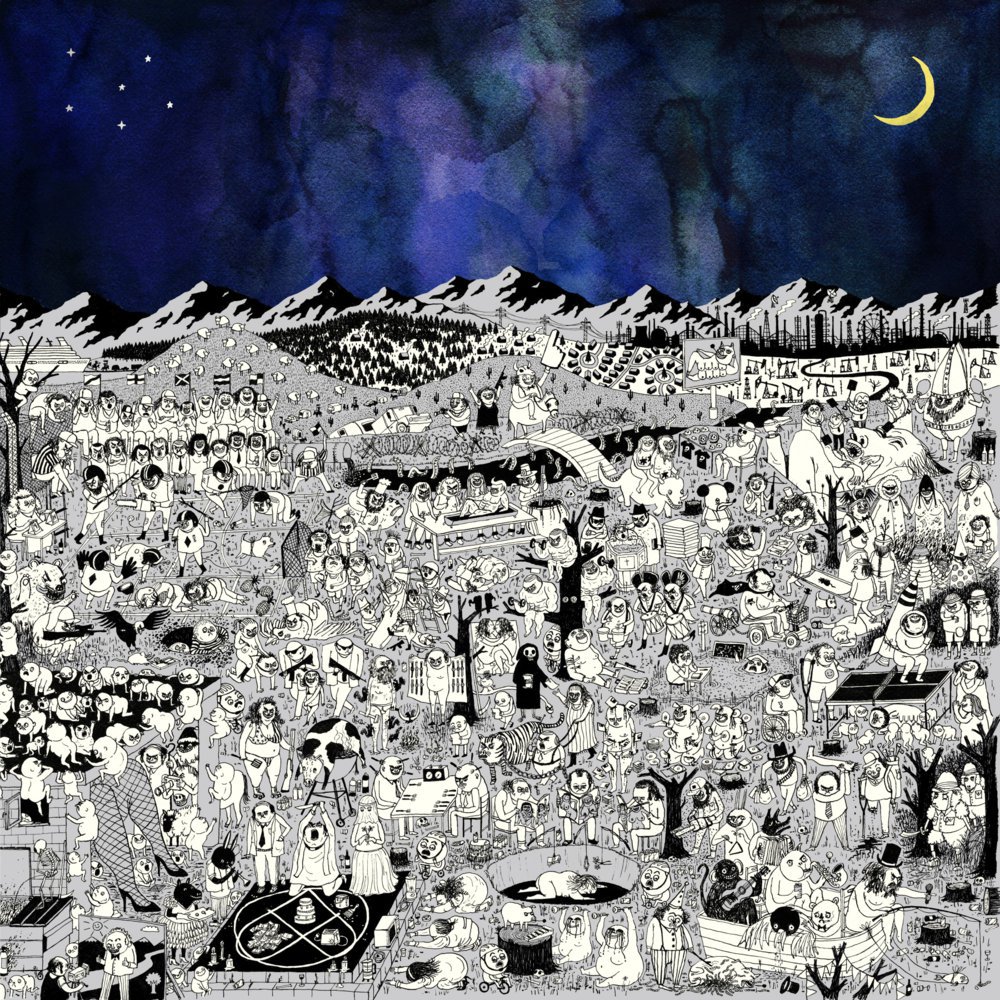 Since his gut-wrenching performance on Saturday Night Live of "Pure Comedy," Father John Misty's new album has been anticipated more than originally expected, even by the big-music-hating big musician himself. Now that Pure Comedy is available for the public to observe, one has to wonder if he's happy people are listening.

Similar to Keaton Henson, there are times when enjoying the album can make its listeners feel guilty for buying into the money-fest that they so passionately condemn. That being said, "True Entertainment Forever" makes confronting society feel like a party. The same could be said for "Ballad of a Dying Man" and "Pure Comedy" if you ignore the soul-crushing set of lyrics.

"Ballad of a Dying Man" runs along the same style as "True Affection" from his former album, I Love You, Honeybear. (Which now sounds like a less-sad version of Pure Comedy.) He's lucky that his music is absolutely gorgeous or I'd be a little more critical of the perpetual buzzkill this album gives me every time I listen.

"Birdie" and "When the God of Love Returns There'll Be Hell to Pay" are beautiful in the same way a girl who identifies people by their astrological signs could be called beautiful. (Reluctantly.) "Smoochie" has the same kind of sour lyrics as the former, but the vision of Josh Tilman being called "smoochie" sweetens things a bit. "Two Wildly Different Perspectives" is similar to that of "The Art of Peer Pressure" by Kendrick Lamar, both being highly enjoyable songs that end with me crying for some unknown reason.

Father John Misty's breakout album, Fear Fun, was a much more lighthearted, folk-heavy collection of songs, while this album comes off intensely orchestral with lyrics that leave fans speechless, whether that's for better or worse. The amount of times  "Things it Would Have Helpful to Know Before the Revolution" uses the word "godless" would make an athiest feel uncomfortable. Despite all this, it's a wonderful story that teeters on the line of too long, but doesn't quite make it into "Leaving L.A." and "So I'm Growing Old on Magic Mountain" territory. I've been listening to this album for about a week now and still don't remember a single lyric from the latter, nor "In Twenty Years or So", so take that as you will.

Something tells me a lot of professors would listen to this album and squint their eyes, calling it "profound" as they rub their elbow patches. "Leaving L.A." shows that he knows exactly what he's doing with this album. He describes the song within its own lyrics, calling it a "10-verse chorus-less diatribe." It's a long song – 13 minutes long, actually – and while it's hard to get through at times, it's truly something to experience, preferably on a stormy day.

"The Memo" is the prime example of a song that makes it impossible to enjoy. The lyrics are beautiful but not too sad, making them approachable enough to sing along without falling into a depression. Automated voices predict my thoughts in real time: "This guy just gets me," "music is my life" and "this is totally the song of my summer," making me both giggle and blush.
People were already impressed with the use of a laugh track in "Bored in the U.S.A" from his former album, so one can only imagine the storm of enlightened hipsters rolling around in their own pretension and acid-trip poems after listening to this song.  Or the rest of the songs, for that matter.


Album by album, Father John Misty gets a little more down in the dumps as our country falls apart, war breaks out, and many lose hope. Sometimes it feels he's trying to get that hope back, but other times it seems he's given up completely. He sings of religion, corruption, tragedy, loneliness, love, and everything in between. (But mainly the first two.) Pure Comedy is one of those albums that makes you feel smarter, more aware, almost as if the songs are confronting you about what you know about yourself and the world around you. Even writing about the topic right now, I can feel the cynicism oozing from my fingertips. So, maybe this album isn't the ideal jam for your weekend pow-wows, but it's great for some good old fashioned, self-loathing alone time.

3.5 out of 5 bongo-wielding beatniks