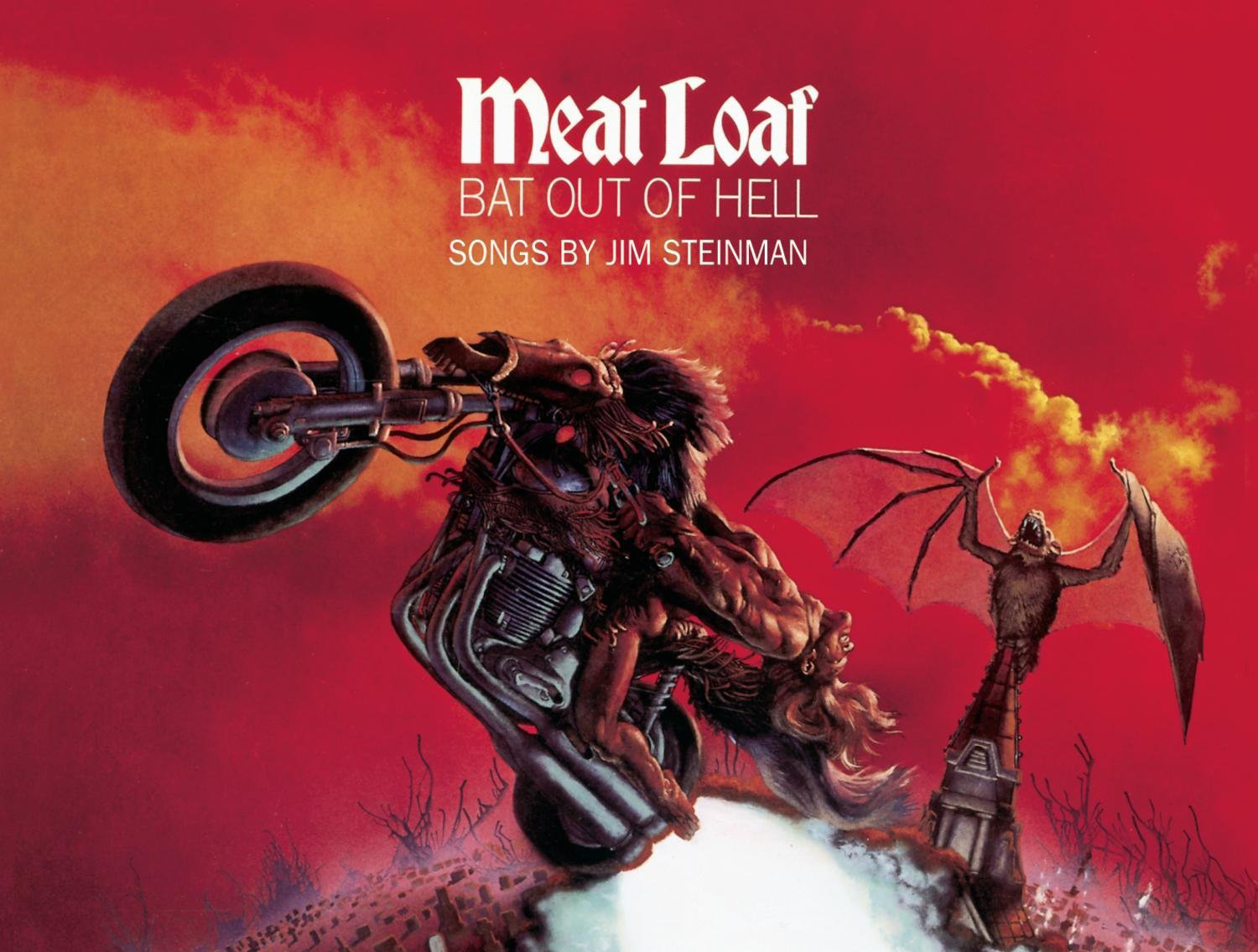 I have to admit, the hope was to write an unbiased introduction to Bat Out of Hell, but I quickly learned that I cannot be unbiased when it comes to Meat Loaf.  I've loved Meat Loaf for a long time, and when I realized that most people I've talked to are indifferent, I couldn't believe it.  You don't have to like Meat Loaf, I get it.  The name is off-putting.  The songs are long.  But it's hard for Bat Out of Hell to put you in a bad mood.  Don't let the album art or the name fool you, the album is a good time.  My hope is that by the end of this, you'd listen to the album front and back and understand what I've been preaching about this whole time.  But first, here's some backstory:
Meat Loaf was born Marvin Lee Aday.  You may recognize him as Bob from Fight Club or Eddie from The Rocky Horror Picture Show.  And if you like Rocky Horror, then you'd love this album, because "Hot Patootie – Bless My Soul" sounds like it could come right form Bat Out of Hell.  Meat Loaf's second album, Bat Out of Hell, was released in 1977.  It's the first of a trilogy with Bat Out of Hell II: Back into Hell, and Bat Out of Hell III: The Monster is Loose following suit.  I promise, this isn't Syfy's latest horror trilogy.  With the songs by Jim Steinman and sung by Meat Loaf, the album grew from Steinman's musical, Neverland, a futuristic retelling of Peter Pan. 
Bat Out of Hell
The first song off of the album, it was intended to be the world's most extreme car crash song.  It begins with a young man who wants to leave a small town with his girlfriend, "Like a bat out hell, I'll be gone when the morning comes," but crashes before he can.  "Then I'm dying at the bottom of a pit in the blazing sun, torn and twisted at the foot of a burning bike."  And while the lyrics may sound gruesome, the almost 10 minute long song feels huge, dramatic, theatrical, and wild.  With a motorcycle engine at the 6 minute mark and a crash at 7 minutes, the stage has been set: this album will feel like a vivid, wild and exciting movie.  By the end of the song, you're drained.  But this is just the beginning.
You Took the Words Right Out of My Mouth (Hot Summer Night)
"You Took the Words Right Out of My Mouth" didn't chart very high, mostly because of the introduction.  Beginning with a dramatic spoken intro, one man asks, "On a hot summer night, would you offer your throat to the wolf with red roses?" He and the woman speak of what sounds like a sacrifice, a thematic introduction to a song about a first kiss.  And once again, it's a vivid story.  "We were lying together in a silver lining by the light of the moon."  The chorus doesn't leave your head.  I swear.  "You took the words right out of my moth, oh it must've been while you were kissing me," just may be the sweetest thing I've heard about a first kiss.
Heaven Can Wait
Originally from the Jim Steinman's Peter Pan musical, Neverland, "Heaven Can Wait" is easily the simplest song on the album.  As the third track on the album, it's almost an intermission.  The song is just piano and vocals.  "Heaven can wait and all I got is time until the end of time." It's sweet and pretty.
All Revved Up with No Place to Go
Instead of young love, "All Revved Up" is more about young lust.  "I was nothing but a lonely boy looking out for something new."  In typical Meat Loaf fashion the song's fun with the piano and sax swinging through the stages of the song, picking up towards the end, rapid fire.  Then stopping, leaving suddenly, all revved up with no place to go.
Two Out of Three (Ain't Bad)
While listening to this in the car, my mom said, "When Meat Loaf sings, you feel it."  Every song off this album is theatrical, but none of them makes you feel the song's pain like this one.  "I want you, I need you, but there ain't no way I'm ever gonna love you.  Now don't be sad, cause two out of three ain't bad."  While it may be my most common shower song—it's great to belt out—it may be the saddest song off of the album.  Meat Loaf takes your hand and walks through someone's break up with great emotional honesty.  "There ain't no Coupe de Ville hidin' at the bottom of a Cracker Jack box."  And by the end, you learn about him.  You learn that those same words were told to him, and he's been unable to love ever since.  It's beautiful, sad, honest, and so much fun to sing.
Paradise By the Dashboard Light
This is the first Meat Loaf song I've ever heard.  And I was much too young to understand it.  I'd sing it with my mom in the car, ask her what it was about, and she'd fumble over her words, concluding I'll know when I'm older.  But now I'm 22 years old, so it's time.  "Paradise by the Dashboard Light" tells the tongue-in-cheek story of a couple's first time.  "I never had a girl looking any better than you did, and all the kids at school, they were wishing they were me that night."  The song bounces back between Meat Loaf and Ellen Foley, building and building to a baseball game at 4 minutes.  The announcer cries I think he's going to make it!  And Ms. Foley shouts "Stop right there!"  It's the most fun you'll have the whole album: Ellen Foley asks if he loves her, to which Meat Loaf replies, "Let me sleep on it, I'll give you an answer in the morning."  The song builds and builds until he caves, "I'll love you 'til the end of time."  And now he's praying for the end of time, because he'll never break his promise or forget his vows.  "Paradise by the Dashboard Light" is a raucous good time.  Its wild, it's theatrical, and it's easily one of the best songs off of the album.
For Crying Out Loud
Jim Steinman's favorite song off of the album, "For Crying Out Loud," is about sex and love.  The most dramatic, with the greatest crescendo, "For Crying Out Loud," is the perfect ending to the wild ride that is Bat Out of Hell.  Beginning with a simple piano, it builds to a full orchestra as Meat Loaf sings, "For crying out loud, you know I love you."  It is the perfect balance of theatrics, honesty, and humor.  The song ebbs and flows throughout a hearty 8 minutes and 45 seconds.  By the end, you believe what Meat Loaf has been saying this whole time. 
Bat Out of Hell is an exciting, high-energy, wild ride.  It's worth it to listen from start to finish without shuffle.  It's great for singing in the shower, or road trips.  And while many of the songs near the 10 minute mark, there is no waisted time, no dull moment.  It's a classic for a reason.
I have been saying for years that I want to see a Bat Out of Hell musical.  And when I say years, I really mean it.  I was singing "Paradise by the Dashboard Light" since fourth grade.  Now that there's one opening at the Manchester Opera House April 29 and then moving to London in June, I'm going to start praying that it will come to Broadway.  (I mean, it has to.  I don't know what I will do if it doesn't.)  But since I'm not going to be able to fly out to England anytime soon, someone tell me how many American dollars £19.99 is, because I'm about to drop it on a hat.