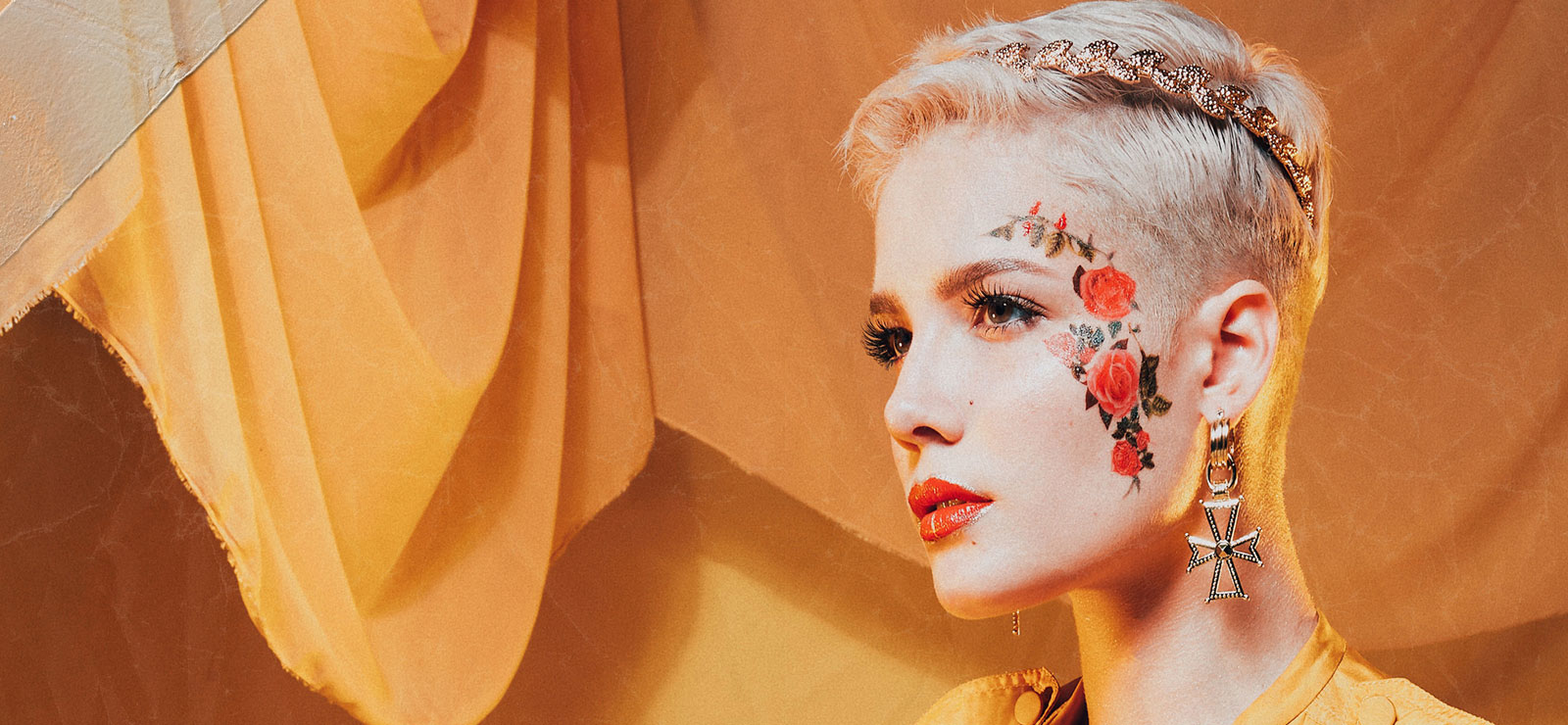 Early June, Ashley Frangipane, also known by her stage name as Halsey, released her second full-length studio album, Hopeless Fountain Kingdom. Two years ago, she released Badlands; the album that made me fall in love with the witty and emotional starlet. I personally find each and every song on Badlands important and incredible in their own way, with substantial support from producer and musician Lido. I have listened to an instrumental version of the album, and still enjoy it just as much as when Halsey blesses the tracks with her voice. Because of this, I had high expectations for Hopeless Fountain Kingdom; I was not disappointed.
Just like Badlands, Hopeless Fountain Kingdom is a conceptual album based around a story; this time, the story involves Romeo and Juliet personas of star crossed lovers, with the album intro being a narration from Shakespeare's play. My best friend and I listened to this album together and annotated the instrumentals and lyrics, song by song. "The Prologue" sets the stage for Halsey's concept, a story that unravels throughout the entirety of the album. It is obvious that she pulls inspiration from many sources in her tracks of this album: The Weeknd, Rihanna, and even early Brittany Spears.
Halsey touches on several topics in HFK, relating to love, lust, heartbreak, and the realness of emotions throughout her life. "100 Letters" is one of my favorite tracks, immediately following "The Prologue," making it the first song on the album. It is introduced with instrumental beats that make the listeners ears perk up. "Eyes Closed" and "Now or Never" were two singles that were introduced before the album release. Both tracks anticipated the release of the album for her fans. Then, she released a stripped version of "Eyes Closed," making me wish she had added that version to the album. A significant song on this album is "Strangers;" this song was the first song Halsey wrote with female pronouns, talking about the love of a woman and opening up about her bi-sexuality. It is a duet sung alongside Lauren Jauregui of Fifth Harmony; a long overdue milestone that opens a door to a side of Halsey she has chosen to hide through most of her career.
A significant track on this album is "Sorry;" a beautiful piano ballet reenacting a real world apology letter, one that Halsey wrote to the people she has hurt in her life. She opens up the doors and windows (and perhaps the skylights) to her soul with this track, and the listener can truly hear her words not just spoken, but felt. In "Don't Play" and "Hopeless" it seems as if Halsey gives her producers more creative control with the instrumentals; something I absolutely love to hear as an artist.
Although I give her substantial praise, I do feel like Halsey fell short with a few songs. I understand that she was experimenting and finding herself as an artist, but with some tracks, the concept of the album doesn't shine through. "Lie" featuring Quavo seems to blur the story of the album somewhat, along with "Alone," which can be seen as a great experimental tune; however, when put in place with the concept and sequence of the album, both songs seem to veer off in an unknown direction.
With that being said, Halsey is set apart from female pop artists because of her eccentric ways of painting vivid images of stories from her lyrics. "I woke up to another mess in the living room, broken bottles all around my feet, they came again in the night under crescent moon, didn't wake me in my sleep." Lyrics like these aren't only part of the dynamic story of the song, but part of the intricate fabric of this conceptual album and love story.
Overall, this album carries on the intergalactic, out-of-this-world feel that Halsey has created for herself throughout the years. She takes on a new concept and shows her courage to truly open up to her fans. She works with talented producers who help lay down beautiful, intricate instrumentals behind her piercing, rough tales about heartbreak and unconventional love. She is a force to be reckon with, and Hopeless Fountain Kingdom is a fast and prominent start to her career as a musician.
Rating: 4.5/5