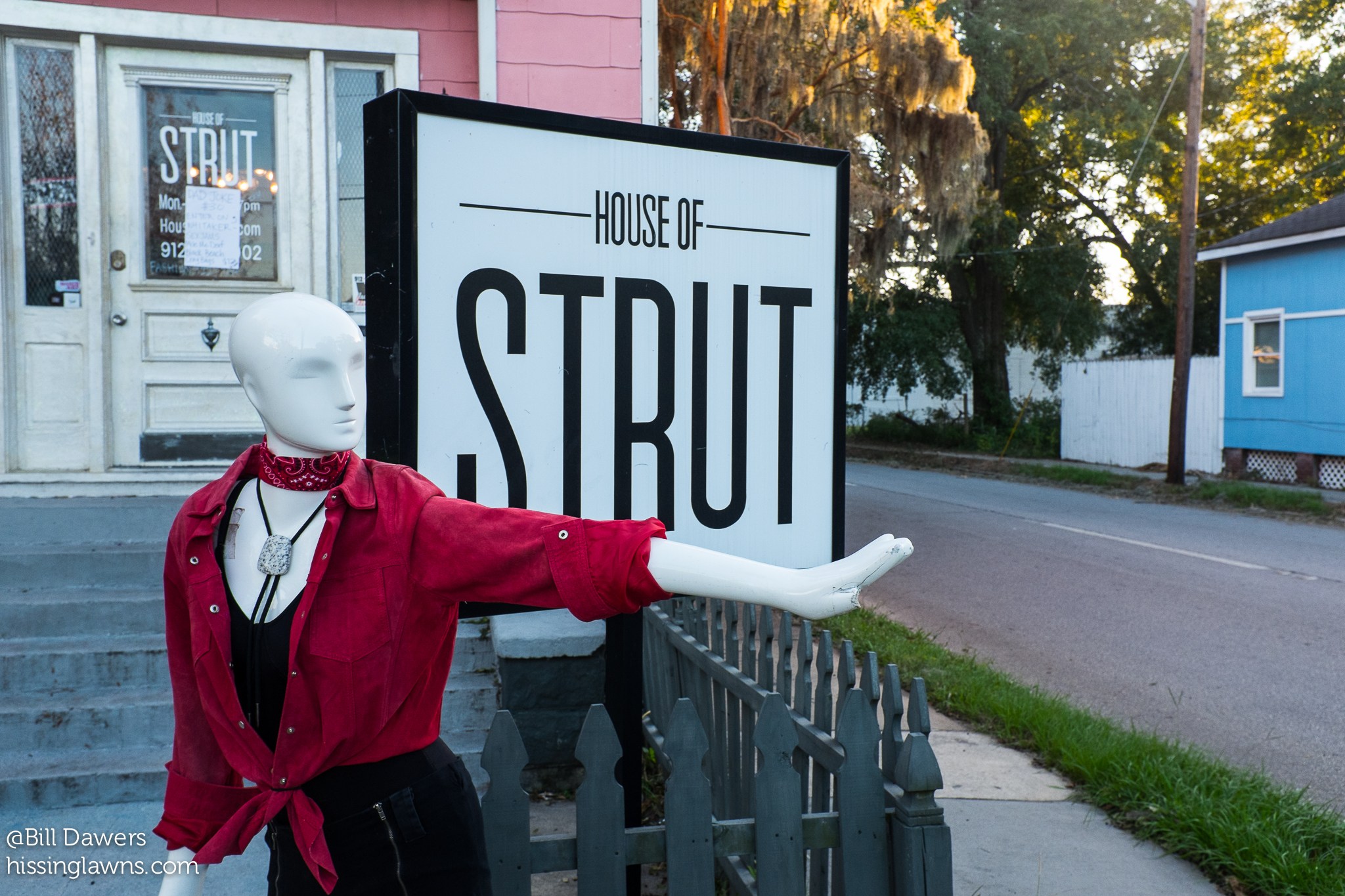 I've been at SCAD Radio for at least a year now, and I've been exposed to some of the stand out bands in the local circuit. Over the past two Fridays however, I realized that everything that I had seen thus far, was just the tip of the iceberg.
The first show at The House of Strut was on October 6th, headlined by relatively newcomer band Solo Collective. They actually played a show the night before at T.J. Tavern that I couldn't go see, as it was a 21 and older show. Unfortunately, the night got cut short because it rained. On the bright side though, House of Strut bounced back on the following Friday of the 13th of October for their first annual Psychedelic Night.
Some of the bands that played are as followed: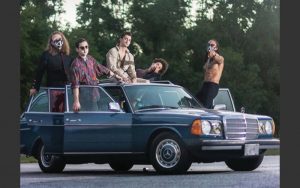 Solo Collective: consists of Regan Slater on bass, Terrance Boston on drums, Garrett Albury on guitar and singer-songwriter/virtuoso Morgan Lewis.  The band got their start last spring, playing a unique blend of soul, indie rock and contemporary hip-hop, which affectionately coined "Alternative Soul-Hop."
Ranging in very diverse influences such as Otis Redding, Chicago, Nat King Cole and Kendrick Lamar. Due to some inconsistent weather on Savannah's part, the bands set ultimately got cut short, as well as having to remove their opening act, but they made most of the time they had and put on a killer show filled with consistent grooves and oozing with sexual charisma.  We all got wet, but hey the gig was a splash! Be sure to hit up the band on Facebook.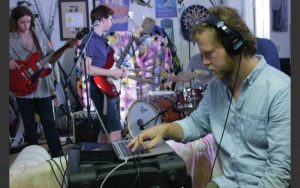 The Sound Experiment:  A six-piece group based on Tybee Island, the band comes from years of individual training in music.  Their music has roots in classic American jazz standards but throw in mixes classic rock, funk and fusion. Lead guitarist Alex Bazemore, jokingly described their sound as "Acid Jazz", stating that "It's all about intelligence and recognizing your own intelligence so you can choose what to abandon creatively."
Sound Experiment's stage presence was quite remarkable, within the first two minutes of their set they managed to get the crowd moving and grooving.  The band had a surprise guest and fellow local musician Max Crisbin who played drums so that drummer/vocalist Timmy Brown could let his voice ring.  Needless to say, Mr. Brown was an excellent front man who channeled bits Michael Buble and at times a rap delivery similar to Matt Schultz of Cage the Elephant.  The standout section of their set however was the challenging energy that horn players Jeremy and Noah Prince brought, akin to the playing of Lou Marini and Steve Madaio members of Stevie Wonders' original brass section.  Overall, The Sound Experiment were a warm welcome into what was to be a night of great music, check them out on their social media pages.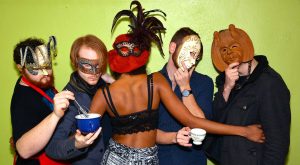 Partials:  I knew this band were something special when they kicked off their set with a cover of LCD Soundsystem's "Us V Them".  I became absolutely entranced by their set, it was filled with standout dance numbers both originals and covers.  They hail all the way from Athens, Georgia. Their current incarnation has existed for a year, with a degree of lineup changes.  Their influences range from Blondie, Talking Heads, New Oder, Radiohead and primarily tip their hats to LCD Soundsystem. Guitarist Jeff Porter explained that they band's mission was to trace dance music back to its roots in genres such as afrobeat.  Their stage show consisted of mostly synth driven EDM, accompanied by driving bass-lines and the occasional cowbell, because we all know that's the way Will Ferrell likes it.  Singer Adriana has a hypnotic and angelic quality to her voice, I don't think of heard anything quite like it before, simultaneously she adds flavor to the rhythm section via cowbells and bongos.  I think it's fair to say that Partials had a majority of the crowd dancing during their 15-20-minute set as well as a sense of festivity in the crowd.  Partials are releasing an EP on January 26th. In the meantime, you can monitor their activities on the bands official Facebook page.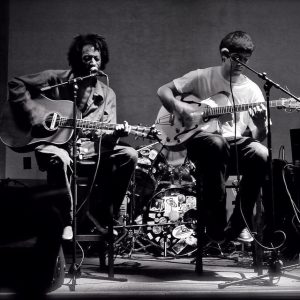 Xulu Prophet:  These guys could be considered veterans of the current Savannah music scene. Bassist Oisin Daly explained that the local scene goes through change every four years, due to the nature of Savannah being a college town, "There's at least an entire summer where we've been one of the only live groups."
Daly, the band's lead singer, and drummer Rhett Coleman were all accomplished musicians in their own respect but they officially came together in early 2013. Ever since then they've been working hard and touring around country playing some very intense but insightful shows.  Xulu Prophets play diverse range of punk rock, reggae, jazz and 70's funk influenced, kind of like a trippy Rage Against The Machine.  The bands live set was nothing short of awesome, bringing with them a healthy dose of energy and heavy instrumentation, as well as Xulu himself commenting on the importance of live music saying, "It's a unique experience where it can change mentalities and break boundaries."
If Xulu Prophet sounds like a group that excites you, then be sure to give their Facebook page a like.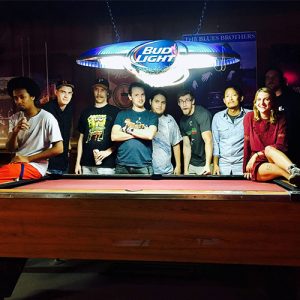 Kilroy Kobra: Initially starting out as a solo project written and composed by lead singer Thomas Uribe, they've now become fully fledged touring band. Probably the only group to explore a more theatrical aspect and that's no coincidence, as Kilroy Kobra had recently completed shooting a short film called Man of the World, in which the group constructs a visual narrative using a few songs off their latest release. The band's sound is electrifying, playing of mix of 90's r&b, with funk and fuzz rock tones. Their also open to more traditional Americana influences like Bruce Springsteen and Bob Dylan. But during my discussions with the group they lamented on the fact of having to put a label on their music, in fact Keyboardist Josh Seckman jokingly described it as being GENRE-lized!  For them it doesn't warrant the creative freedom that they've been working towards for the past year, but Kilroy Kobra seem determined to overcome that struggle in whatever way possible, personally I can't wait to see what that looks like. These have an awesome EP and film out called Man of The World, so be sure to give it a listen (and a watch). Also don't be stranger, send the band some love on social media!