With the smorgasbord of music and artists that exist out there in the world, many bands slip through the cracks of public knowledge. It's been this way since the dawn of time. That being said, many people have still been able to find the hidden gems that deserve a first or second chance at an actual audience.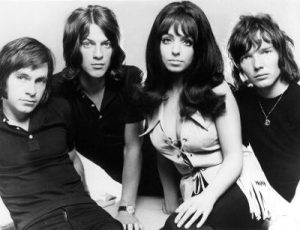 I view myself as someone in control of their emotions, so discussing a band that I view as totally underrated without jumping off the deep end should be easy. Yet I have found it very hard when dealing with this topic. Therefore, I am throwing caution to the wind to sit down and coherently talk about the band, Shocking Blue.  
Formed in 1967 in The Netherlands with members Robbie van Leeuwen on guitar and sitar, Fred de Wilde as vocals, Klaasje van der Wal as the bassist, and Cor van der Beek on the drums. They didn't achieve much mainstream success, only having a few singles to their name. This inevitably led to the 1968 departure of Fred de Wilde.
The band's most memorable feature, Mariska Veres joined the band that same year, bringing a new look and sound to the group. Described as the Dutch Grace Slick, her heavy kohl-rimmed eyes and her long banged wigs made her an automatic sex symbol. After her arrival, the band recorded their biggest hit, "Venus". You'll recognize it from the Gillette razor commercials.
"I'm your Venus. I'm your fire and your desire."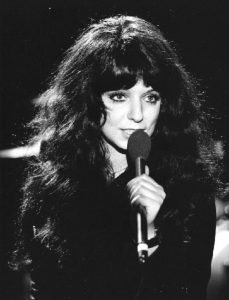 The song reached number one on U.S Billboard's Hot 100 in 1970, but they did not receive any more major radio play in the U.S. To me, that is an utter tragedy, as they are the perfect hippie/70's mix band. They're not thought-provoking songs, but they are just so catchy and fun to listen to, that anybody can find one song of theirs that they like. 
What's even more impressive, is that Mariska didn't know any English when she was on lead vocals. So, everything she sang was done phonetically. It's hard to even pinpoint when the language barrier gets in the way, the power behind her voice transcends the limitations of language.
The band broke up in 1974, leading to the solo careers of Robbie van Leeuwen and Mariska Veres. They had several band reunions stretching up until the deaths of Cor van der Beek in 1998 and Mariska Veres in 2006.
Their Most Popular Songs:
"Venus" (later covered by Bananarama in 1986, sending it to number 1 on the charts in both the US and UK)
"Mighty Joe"
"Long Lonesome Road"
"Acka Raga"
"Shocking You"
"Lovebuzz" (which was covered by Nirvana in 1988 as their debut single)
"Alaska Country"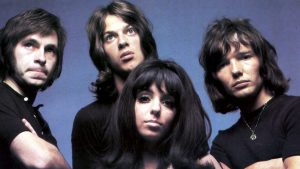 My Personal Favorites:
"Velvet Heaven"
Most likely the slowest of the band's work, it rings like a sad love song and an atmospheric dream. The delicate harmony between the band's members is totally on display in this song.
"Sally Was a Good Old Girl"
In comparison to their very 60's sound, this cover of the Harlan Howard song goes full country. The electric guitar, banjo, and bass combo really ramp this song up into a beautiful rock-country hybrid.
"Rock In The Sea"
A small fun little tune that is a little more light than you would think. Parts of the song sound like they were played on a mandolin, and paired with Mariska's sultry voice; it's a knockout.
"Inkpot"
My absolute favorite song. I love the Indian-style combined with their quintessential 70's rock. 
"Scorpio's Dance"
How Quentin Tarantino has not used this for one of his movies, I'll never know. One of the best showings that Shocking Blue's catalog is just as playful as it is experimental. It's totally instrumental with a thick helping of country twang in it's 70's glam. It's a little long, but its neo-spaghetti western sound is amazing. Worthy of being the title track from the band's album, Scorpio's Dance.
Inventive and unique; yet somehow underrated.