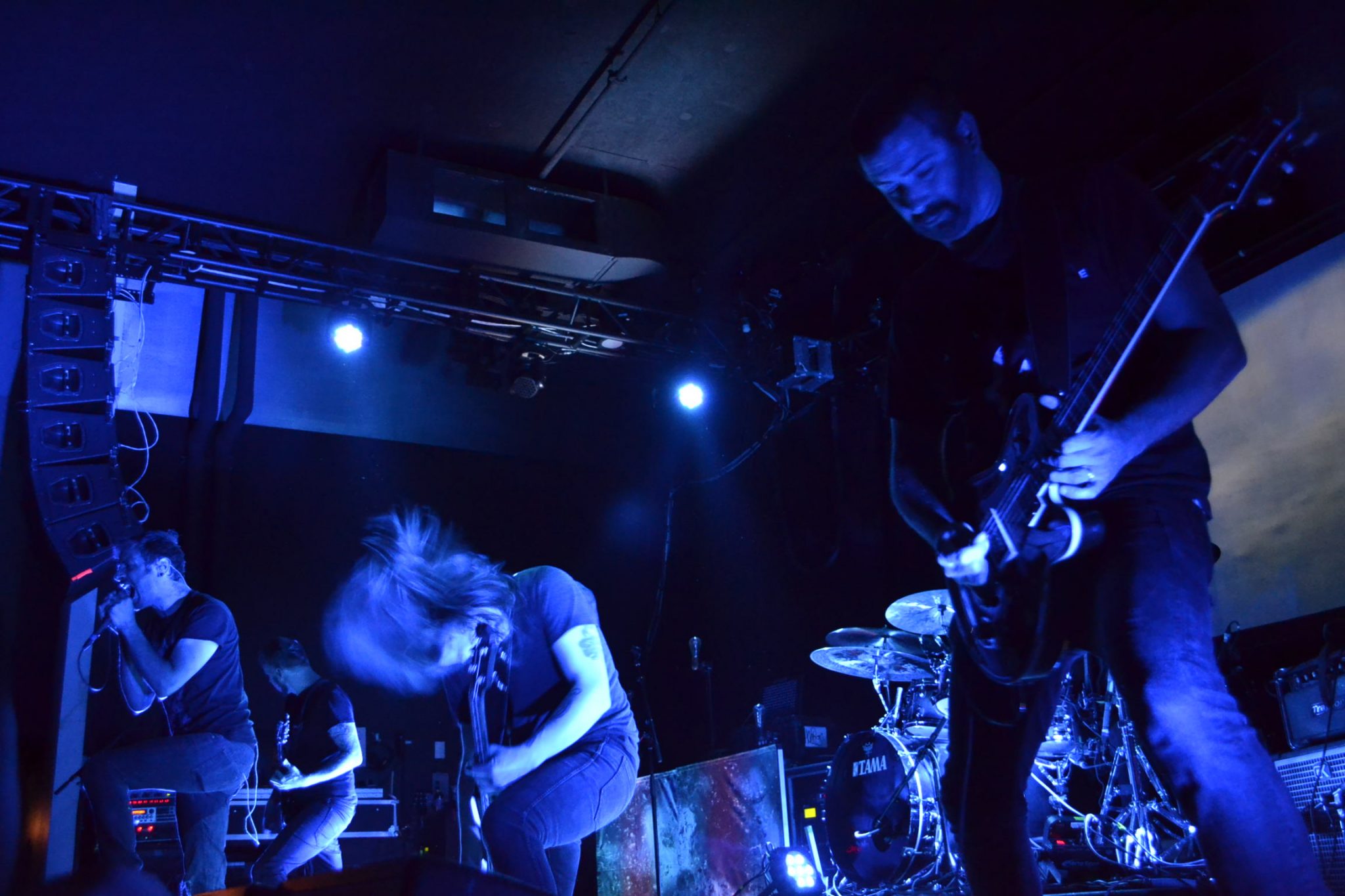 SCAD Radio recently had a chance to ask The Ocean guitarist and mastermind Robin Staps a few questions about his band and label, Pelagic Records.
The Ocean, also referred to as The Ocean Collective, is a German progressive metal band formed in the year 2000. The band typically combines intricate instrumentals and ocean themed lyrical allegories which are all put together through a revolving cast of musicians. The band's last full release was 2013's Pelagial, but new music has surfaced through a track on the 2017 Pelagic Records compilation album, Into The Twilight.
---
Kush with SCAD Radio: How has working on your record label, Pelagic Records, changed the way that you approached music with The Ocean?
Robin Staps of The Ocean: I guess I have become more involved in the business and production side of music, and have acquired a different perspective. From a band member's perspective, there is a conflict of interest between your interests as a musician and the interests of a label trying to sell your musicianship. It's a love-hate relationship; in a way you need (or needed) the label to market your shit, on the other hand you were hating them for taking a way too big share of your income.
I understand now what it takes to release a record these days, and how much work, time and money goes into a release of a record. So I guess building this label has made me more understanding, as a musician and band member, and at the same time has made me more independent and given me more insight on things i had no clue about previously.
Kush: Were there any surprising struggles you came across when starting up Pelagic?
Robin Staps: My first distribution deal was with SPV, who covered all of Europe for me. About half a year after signing with them, they went bankrupt. They still owed me money for a couple of months sales, and I was all of a sudden in a situation where I had thousands of mainly CDs spread out all across Europe between Portugal, Norway and Greece… and now had to arrange for them to get shipped back to Berlin. I reached out to SPV's partner's in every territory and could secure a number of direct deals with them, so they would simply sign over my stock to a new direct account. A bunch of stock, however, was lost forever. I learned to be more careful, both with regards to invoicing regularly, and with regards to choosing partners and controlling stock.
K: It's been almost a decade since Pelagic Records was first founded. What are some of the ways in which the label has grown that you're proud of?
R: When I started out, I didn't really have any ambitions with the label. I just wanted to release an out of print The Ocean CD, and then there was another band that I was into and so I wanted to help them out…
8 years later, Pelagic has grown to stand on its own feet. We have a catalogue of almost 100 releases, a great team of people who really affiliate themselves with their work for Pelagic and without whom none of this would have been possible, and a very time-consuming but very rewarding job for me. It's a great privilege to be able to make music my living, be it playing music, recording music, finding new music or marketing and promoting music that I love.
K: Do you have any advice for aspiring musicians who one day hope to have their music on Pelagic Records?
R: We rarely sign bands because of demo submissions, it's usually recommendations of bands we already follow or friends in bands that make us contact someone we would like to work with. So my advice to aspiring bands would be: go out and play as much as you can, make sure that people take notice and talk about you, because that's the best way to make a label become aware of you.
K: Pelagic Records just released a fantastic compilation album, In The Twilight, These Rocks Have Teeth. Why did The Ocean decide to choose "Turritopsis Dohrnii" as their song for this compilation?
R: It was a leftover from the Pelagial recording session that didn't fit on the record. I always liked the track, so I wanted to put it to use in some way.
K: What do you do instrumentally with The Ocean to ensure that the music stays progressive and atmospheric while retaining the heaviness that lies at the core of it?
R: I just write music that someone finds its way to me, or out of me… writing music, or any creative action, is a mysterious process. I don't really know what I am doing in a conscious way. I mean I know what I do musically, but it would never work to build a song from theory. It's always a matter of trying out things that you find challenging and promising and that just sound cool to you, and then taking it from there… in the end, songs usually take unexpected turns, and might end up in a completely unforeseen place. But that's the thrill of it. You start somewhere, you walk down a certain road that eventually branches of in multiple directions and you need to choose which way to walk. It can lead to a dead end, then you go back… or it can lead to new waypoints and sudden, unexpected discoveries. It's the best thing in theworld.
K: Many of the artists that The Ocean cites as important influences tend to work more on the visual side of art. How do you work to interpret this into a more sound focused medium as well as work to build on top of it to make it your own?
R: I appreciate a holistic approach to art that makes use of all mediums available for expression. Obviously when you play in a band, the music is the most important medium for you, but there is also lots of power to imagery and the visual side of things… be it album artwork, merch designs or live lighting; all of these add to the vibe of your music and you'd be a fool not to explore and make the best out of all of this.
K: A lot of The Ocean's lyrical content circles around the ocean, as alluded to by the name of the band. Do you feel that what you write about in the depths of the ocean can apply to the lives and society of humankind?
R: I don't usually write about anglerfish. Most of my lyrics are quite abstract and personal, and rather emotional than analytical. As for what the writing of the lyrics for Pelagial is concerned, they are making reference to the movie Stalker by Andrey Tarkovsky, a journey of 3 men towards the core of what they call the "zone", a place where supposedly wishes become true. Whilst reflecting a lot of the themes and questions from the movie, writing these lyrics was a very personal thing. I was going through a rough time personally and was facing my demons every day. There was still hope at the end of the tunnel at that time though, hope that was later lost, after the album had been released… it's important to fight your demons but it is equally important to understand which demons may be an inseparable part of you, because it makes no sense to fight yourself or your own nature.
K: What's coming up in the near future for both The Ocean and Pelagic Records?
R: With The Ocean, we are currently working on a 2 new albums to be released in 2018 and 2019. It's been 4 years since the release of Pelagial and we have played about 300 shows since then, where we mostly played the album in full… it's really about time for something new now.
With Pelagic, we have exciting new releases coming up by Spook The Horses, Lesser Glow, Hypno5e, Arms and Sleepers and Abraham. We recently released Briqueville's sophomore album, II. They are a heavy instrumental band from Belgium, that is more on the metal than on the post rock side of things. They play with robes and masks live and really create this super intense cathartic and hypnotic live experience that will just totally blow you away. I saw them live at Dunk and got as excited as I haven't been in a long time. You can stream the full album via Decibel.
Other than that, check out the new YLVA record. Incredible, super heavy new band from Melbourne. If you are into early Cult Of Luna or Times Of Grace -era Neurosis, this is up your alley. Stream the album through Revolver.
Another great Australian band is Lo! from Sydney, who have just released their 3rd album Vestigial through us 2 weeks ago. Their bass player is a movie producer and so they always come up with great and unique video ideas. Definitely check out their clip for "Orca" on Youtube, where vocalist Sam Dillon emerges as a vicious creature from a vat of shiny pink goo, in front of an otherwise completely black background. The clip went viral over the love-it-or-hate-it discussion of whether or not pink belongs into metal, that followed hot on the heels… but even the haters had to admit that this clip, premiered via Noisey, Metal Hammer and Decibel, showed a truly outstanding and innovative approach to visual arts in heavy music.
---
For more music news, be sure to keep it locked to SCADRadio.org