The seeds of OK Go were planted in a couple of 11-year-old boys at art camp. Years later, these seeds would sprout into an energetic, one-of-a-kind, you-gotta-see-em-live, local band in Chicago, grow to be a viral Youtube video of four dudes on treadmills, and eventually transform into an independent band forging the way for innovation in the music industry. They broke boundaries in their mind-boggling and recently gravity-defying music videos, in their mesmerizing performances, in their rejection of traditional digital rights management, and in their music. After releasing two albums of their own, OK Go decided to embark on a new venture. They created the album, You're Not Alone with New Orleans funk rock band Bonerama in response to the devastating effects of Hurricane Katrina. They were inspired by a trip to New Orleans years after the hurricane and donated the profits of this EP to help musicians displaced by the disaster.
In creating this EP they broke another boundary. They tore down the wall between their upbeat pop rock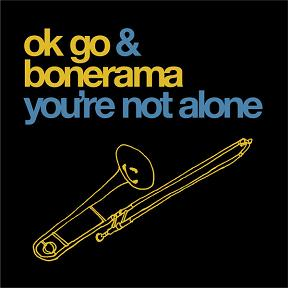 and New Orleans's soulful funk. They became participants in the culture that was hurting. The EP not only featured Bonerama but was made in partnership with them and released under both artists' names. The release of the EP was more than just the profits to be donated, but rather about uniting as artists. They recognized the significance of this community in the music industry and sought not only to help them but to learn from them; for that and the resulting fusion, we are thankful.
The EP starts with a cover of David Bowie's "Rock 'N' Roll Suicide," progresses through a few revamped songs from OK Go's previous album Oh No, and ends with a cover of Bob Dylan's "I Shall Be Released." Each seamlessly fuses the two genres, creating something new and refreshing and exciting that makes your heart hurt and your body dance and that sounds a bit different every time you listen to it (I can attest to this after listening to these songs on loop for the last couple of days).
The EP was released on Mardi Gras day 10 years ago, but it will surely make the perfect soundtrack for this year's Mardi Gras.