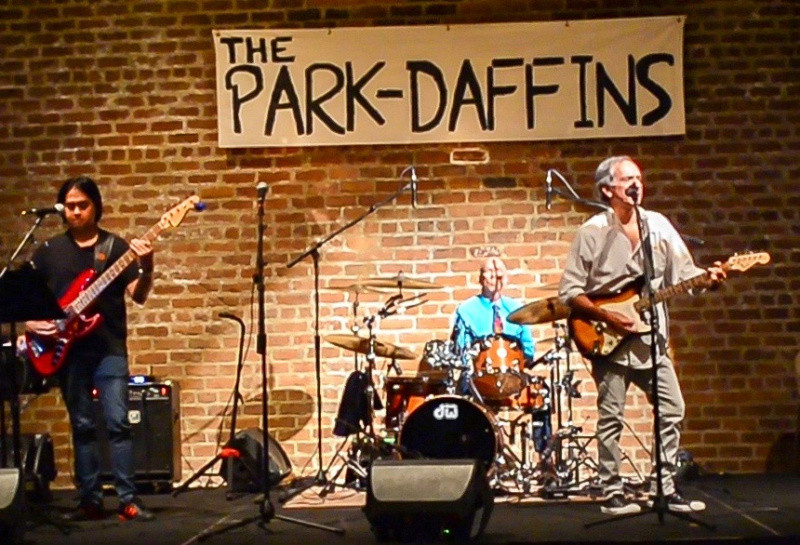 SCAD Radio's Abby Loden and Ian Dziura sat down with Tom and Scott of Savannah-based band The Park-Daffins. On March 9th, they're doing a benefit concert for the Wounded Warrior Project. You can find more information on it here.

Ian- Tell us how you got involved in the Wounded Warrior Project.

Tom- Like most people who watch TV, I've seen the commercials for Wounded Warrior, and they're kinda heartbreaking. My dad in particular was a navy vet… My father-in-law, Walter, was a fighter pilot in World War II, he was a marine… I'm watching [a Wounded Warrior commercial], and decided to draw a line between veterans in my family and modern day veterans. It just turns out my father-in-law passed away inexplicably on December 7th four years ago. This past December 7th, my wife was feeling sad on the anniversary of her father's death and I said "You know what, I'm gonna get the band to do a show for veterans… I reached out to [Wounded Warrior] and got a woman on the phone that day and she said to go online, and then registered us for an event. That's why the band is playing a show on Saturday night, March 9th at the American Legion hall on Forsyth Park. All the money is going to wounded warriors.

Abby- Being able to perform a show for a cause you're passionate about must be a very meaningful experience. Have you had any other meaningful live performances as the Park-Daffins?

Scott- As of right now, no.
T- I will say this, and Scott may smack me. The Park-Daffins only play original music, and we have found it extraordinarily difficult to find venues in Savannah to play. I've personally reached out to 10 nightclubs, and if you're not playing cover songs, it's very difficult to get them to break that barrier. I find it frustrating and sad because Savannah has this great reputation for being artistic and has so many music fests. It strikes me as rather ironic that a band that sticks to its mission of only playing original songs can hardly get to play any gigs. We've only played 3-4 gigs because the nightclubs wanna hear cover bands. I'd say any gig is meaningful because it means we've broken through.

I- How did you guys meet?

S- Tom and I played tennis together for 3 years, and we played at Daffin Park. Tom came up with a bunch of names, I looked at 'em. I said "what about Park Daffin? Just switch the names." Knowing Tom, he says "that's a good idea, but we gotta add something to it." So he put "the" in front of it, and a hyphen between "Park" and "Daffin".

T- I said "I play guitar, and I used to be in a couple bands", Scott said "I play drums, and I used to be in a couple bands". After a couple years, we finally looked at each other and said "we have to play together"… My original idea for the band was to call it The Daffin Parkers. I would be Tommy Parker, he would be Scott Parker, just like the Ramones. Everybody takes their own first name and used the band's name as the last name.

A- Your publisher, Lose the Cat Publications, has an interesting history behind its name.

(Both laugh)
T- Scott and I played together for a few months and the whole idea was we would do original songs. I wrote a bunch of songs, Scott helped me arrange them, and we were looking for a bass player. A neighbor found a guy in Manhattan, very experienced, spoke to him several times on the phone and he sounded like a perfect fit. I said "Scott, do me a favor, send this guy a bunch of our songs recorded and we'll see if he likes it." So Scott sends this potential bass player the songs. When I talked to this guy, he told me "I'm allergic to cats"… Scott gets an email back.

S- He said "Lost the cat". I said "what're you talking about?" He meant if I lose [my pet] cat, he'll come to practice.

T- This guy's from Manahattan, and when they say a New York minute, they mean a New York minute. This email was 3 sentences that said: "Love the songs. Wanna join the band. Lose the cat." That bass player never even came to rehearsal.

I- What's the band's overall favorite classic rock band?

S- There's one band we have in common we grew up on, The Beatles. We were both 13-14 years old when they came on The Ed Sullivan Show. Then Tom went to the punk era, I went in the Frank Zappa era, and I'm a big Red Hot Chili Peppers fan right now.

T- One day I was at practice, and I warmed up my fingers by playing some random songs. I was playing an early Beatles song by John Lennon called "You've Got To Hide Your Love Away"… Our bass player is 35, and he's got a different view of music. He likes more current bands, whereas Scott and I prefer- especially for recording- to record live and raw to get the emotion. [Our bass player] wants everything perfect… There's a generational clash in our group. He wants perfection because he and our keyboard player grew up in the tech world.
To check out the group's music videos, click here.