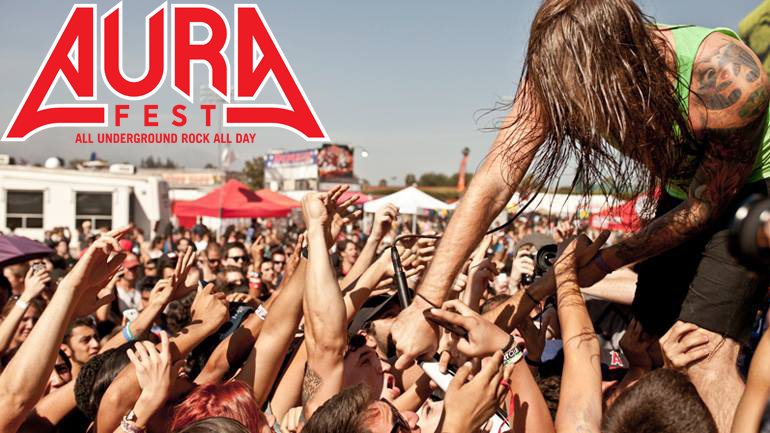 The A.U.R.A. (All Underground Rock Allday) Festival returns to Savannah, Georgia this February with a varied assortment of bands sure to appeal to the palate of every rock and metal listener. This year, the all ages festival returns featuring a lineup full of both local and national acts from the rock and metal community.
Whether you're a fan of heavy riffs and brutal breakdowns, technical guitar work and melodic vocals, here's SCAD Radio's guide to the bands slated to play on February 18, 2017 at the Garden of Ships Of The Sea Maritime Museum.
—-
Unearth
From Boston, Massachusetts, Unearth is one of the most prolific metalcore bands to ever hit the scene. Their imprint on the genre is unmistakable from August Burns Red to Killswitch Engage to Lamb of God. In fact, the band's name was coined by their very desire to change the genre and its sound. With a mix of unclean vocals, catchy choruses, and melodic and technical guitarwork, Unearth will be sure to capture listeners of metalcore, hardcore, and everything in between, especially during a live performance.
For Fans Of: August Burns Red, As I Lay Dying, The Devil Wears Prada
For a taste: My Will Be Done from 2008's The March
Zao
This legendary band is credited with being one of the pioneers in the metalcore genre which bridged metal music with hardcore punk. After bursting on the scene in 1995, they released some of the most influential metalcore albums, like 1999's Liberate te ex Inferis and 2004's The Funeral of God. Now the band is back with brand new The Well Intentioned Virus after a 5 year hiatus. Be sure to catch Zao if you're looking for a mix of new music and metalcore classics.
For Fans Of: The Dillinger Escape Plan, Converge, Norma Jean
For a taste: Savannah from 1999's Liberate te ex Inferis
Oh, Sleeper
Comprised of ex-members of Between the Buried and Me, As I Lay Dying, As Cities Burn, and Terminal, Oh, Sleeper is a metalcore act from Ft. Worth, Texas. After releasing 4 full length albums and 2 EPs, Oh, Sleeper is ready to release an independent album after a 4 year break from the studio. Armed with punchy bass, heavy hitting guitar work, intense double bass drumming, and a mix of clean and unclean vocals, Oh, Sleeper is not a band to miss when they are on stage.
For Fans Of: blessthefall, Miss May I, For Today
For a taste: Vices Like Vipers from 2007's When I Am God
He Is Legend
Starting out in 2003, He is Legend is a band that mixes many different genres to ultimately create their own music style. Although they take influences for Nirvana and the Smashing Pumpkins and give it an aggressive and faster twist, the band is impossible to nail down to one genre. Right before an American tour with Norma Jean and Capsize, He is Legend brings their music to Savannah at A.U.R.A. Fest.
For Fans Of: A Day to Remember, Dance Gavin Dance, Every Time I Die
For a taste: Eating a Book from 2004's I Am Hollywood
I Set My Friends On Fire
I Set My Friends On Fire are a fun loving band that employs the use of catchy synth lines and mixes it with the instrumentals and vocal delivery of metalcore to create a genre that is now known as electronicore. The band originally claimed a massive fanbase through the internet, originally through a cover of Crank That by Soulja Boy Tell 'Em. The band later shone through comedy through several collaborations with Youtube comedy sensation Smosh. The band keep showcasing their fun and experimental music and will bring back old school electronicore to Savannah before the release of their new album, Caterpillar Sex.
For Fans Of: Enter Shikari, Attack Attack!, A Skylit Drive
For a taste: Things That Rhyme With Orange from 2008's You Can't Spell Slaughter Without Laughter
Microwave
Hailing from Atlanta, Georgia, Microwave is set to be the next big thing in the emo revival. They have 2 full length albums and 4 EPs full of deeply personal, but never corny, music which falls somewhere between pop punk and post hardcore. After releasing Much Love in 2016 and touring with bands like The Wonder Years, Motion City Soundtrack, Man Overboard, and most recently Tiny Moving Parts, Microwave is set to take the stage at Savannah's A.U.R.A. Fest.
For Fans Of: Senses Fail, Modern Baseball, Sorority Noise
For a taste: Lighterless from 2016's Much Love
Tides of Man
Tides of Man is the perfect band for someone craving instrumental and progressive in the vein of post hardcore. While the band originally started out with music akin to Circa Survive, Tides of Man moved to a more instrumental direction following the departure of Tillian Pearson (currently a member of Dance Gavin Dance). The band plays music that sets a heavy mood, but also likes to play with unusual time signatures and sometimes plays some flamboyant riffs that would not seem out of place on a Tiny Moving Parts record. The music fan who appreciates musical prowess would be amiss to skip this performance.
For Fans Of: Explosions in the Sky, Mogwai, Strawberry Girls
For a taste: Hold Still from 2014's Young and Courageous
The Bunny The Bear
The Bunny The Bear are one of the largest, and still rising, current electronicore bands. The Bunny The Bear have earned their name and are easily recognizable from their rabbit and bear masks. The band uses programmed electronic elements to back their music and add metalcore elements on top, with the Bunny providing unclean vocals while the Bear provides clean vocals. Be sure to catch The Bunny The Bear if you like to see a high energy performance with experimental music.
For Fans Of: I See Stars, Eskimo Callboy, The Browning
For a taste: Aisle from 2011's If You Don't Have Anything Nice to Say…
SycAmour
SycAmour is a band best described as mixing the theatrics of Panic! At the Disco's A Fever You Can't Sweat Out and the aggressive nature of post hardcore. Currently in the studio recording new material, SycAmour is a band that will be sure to capture the listener with their bright and extensive vocal range, infectious guitar work, and hardcore music accents.
For Fans Of: Circa Survive, Emery, Too Close to Touch
For a taste: Calm Down Juliet (What a Drama Queen) from 2014's Indulgence: A Saga of Lights
The Funeral Portrait
Atlanta's The Funeral Portrait is no stranger to Savannah, having performed most recently at the Black Box Theatre. But it's always a treat to see the band perform as they put on a stunning live performance. The band has been described as theatricore, a mix between something very theatrical and the post hardcore music genre. Be sure to catch The Funeral Portrait to see one of post hardcore's quickest rising bands.
For Fans Of: Crown the Empire, Escape the Fate, Alesana
For a taste: Casanova (C'est La Vie) from 2014's For the Dearly Departed
Attalus
Attalus is a post hardcore band reminiscent of those from the mid 2000s, but also seems to use a sound that reminds one of Brand New as well as emo bands like Sunny Day Real Estate. With catchy melodies, bright showy guitar work, interesting drum work and unclean vocal accents; Attalus is a band that takes what made music of the mid 2000s so great and puts a fresh spin on it.
For Fans Of: Brand New, Thrice, The Receiving End of Sirens
For a taste: Sirens from 2015's Into the Sea
Native Suns
Native Suns is a band that works to create a blend between interesting post hardcore instrumentals with vocals similar to Saosin's Anthony Green or Hands Like Houses' Trenton Woodley. The band keeps their music interesting by mixing melodic lead vocals, bright guitar playing, and punchy drums and bass. Post hardcore fans are sure to enjoy an atmospheric performance which captures the spirit of the recording when seeing Native Suns at A.U.R.A. Fest.
For Fans Of: Hands Like Houses, Chiodos, Scary Kids Scaring Kids
For a taste: Clockwork from 2015's Relay.acquire
Me and the Trinity
Me and the Trinity is a straight edge band from Savannah and an old favorite in the local hardcore scene. Me and the Trinity looks to reunite at 2017's  A.U.R.A. Fest after a breakup in 2015. The band will be bringing all the brutality and hardcore that made them a local back to the stage this February. Hardcore and metalcore fans shouldn't want to miss the mayhem this band is sure to bring.
For Fans Of: Poison the Well, Silent Planet, I The Breather
For a taste: Gown from 2014's Crux
Vatican
Vatican is another local act playing this fest. The band has been hugely active, touring all over the southeast region of the United States. Vatican's music features a more groove metal oriented sound, but with heavy influence from 90s hardcore, 00s metalcore, and more recent death metal. Be sure to catch Vatican ahead of their tour with Heavens Die.
For Fans Of: Zao, Cattle Decapitation, I Declare War
For a taste: Barely Breathing from 2015's Drowning the Apathy Inside
Be sure to visit A.U.R.A. Fest on February 18, 2017 for food trucks, cold craft brews, and, of course, some of rock and metal's finest.