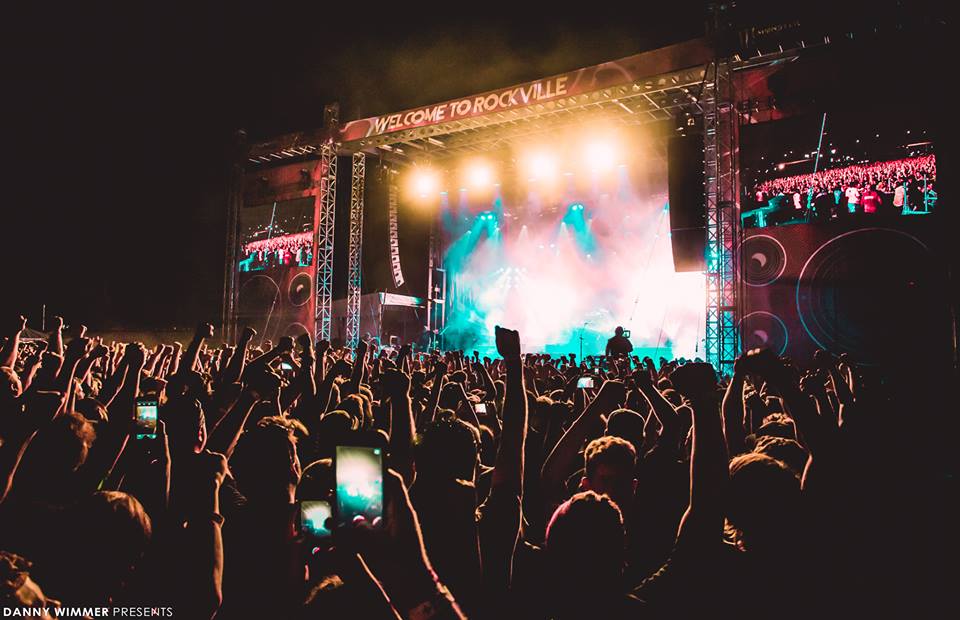 Festival season is upon us once again! Florida's biggest rock experience, Welcome to Rockville, returns to Jacksonville with a lineup full of great bands. There are both rock legends and bands that are up and coming in the scene. You can meet your rock heroes, mosh in a pit with thousands of people, and lose your voice singing along to the music. Be sure to be at Metropolitan Park to help kick off the World's Loudest Month!
Want to plan out the first day of the festival? Here's SCAD Radio's guide to the bands playing on Saturday at 2017 Welcome to Rockville.
---
Soundgarden
Soundgarden is one of those bands that simply needs no introduction. The Seattle band is one of the most influential grunge bands to ever take the stage. Even though they paved the road for other grunge bands with Nirvana, Stone Temple Pilots, and Alice in Chains, Soundgarden is one of those bands from the early 90s which has held up in every single way. Chris Cornell's distinct voice accompanied by a driving rhythm section and heavy distorted guitar are sure to be a perfect way to end Day 1 of the 2017 Welcome to Rockville festival.
For Fans Of: Alice in Chains, Stone Temple Pilots, Blind Melon
For a Taste: "Fell on Black Days" from Superuknown
A Perfect Circle
Most people know Maynard James Keenan as the frontman for Tool. What they might not know is that he and an old guitar tech for Tool went on to extend their brand of artistic alternative metal in a side project called A Perfect Circle. The five-piece band creates a melancholy and avant garde variety of rock and has worked with bands like Nine Inch Nails and Smashing Pumpkins. If you like odd time signatures, intricate rhythms, and just plain ol' quality metal, be sure to check out A Perfect Circle at 2017 Welcome to Rockville.
For Fans Of: Deftones, Tool, Sevendust
For a Taste: "Judith" from Mer De Noms
The Offspring
Punk fans rejoice! The Offspring are coming to this year's edition of Welcome to Rockville and are sure to put on one crazy show. Armed with classics like "Self Esteem" and "Come Out and Play" as well as fun jams like "Pretty Fly (For a White Guy)", their performance is sure to have something for everyone. Dexter Holland's vocals mix perfectly with the rest of the band's punk instrumentals to provide what is sure to be one of the best sets of the night.
For Fans Of: Sum 41, NOFX, zebrahead
For a Taste: "Self Esteem" from Smash
Mastodon
Are you a progressive metal fan? If not, you sure will be by the end of this set. In seeing Mastodon you'll get a healthy dose of soaring technical guitarwork, a blend of 4 different vocal styles, and a groovy rhythm section. Whether you're a fan of Sikth or Between the Buried and Me, Mastodon is certain to give you a hearty dose of the prog metal you love and leave you wanting more.
For Fans Of: Gojira, Vildhjarta, Shokran
For a Taste: "Blood and Thunder" from Leviathan
Coheed and Cambria
Coheed and Cambria may have started off as a simple rock trio in 1995, but they have quickly become one of the most prolific names in progressive rock since then. The band has been expertly mixing progressive rock in the vein of Rush with emocore and post hardcore remniscent of Saosin and Thrice since their official forming as Coheed and Cambria in 2001. Flamboyant guitar riffs, strong drums, and catchy bass lines are all topped with the vocals of Claudio Sanchez to create some of the freshest music you will hear in a long time.
For Fans Of: Rush, Circa Survive, The Mars Volta
For a Taste: "Welcome Home" from Good Apollo, I'm Burning Star IV, Volume One: From Fear Through the Eyes of Madness
Pierce the Veil
High energy? Check. Soaring vocals? Check. Distortion drenched guitars? Check. An agressive rhythm section with a hint of Latin flair? Check. Pierce the Veil has got it all and has deservedly become one of the most beloved post hardcore bands of all time. The band has been playing sold out shows for years to hundreds of adoring fans and aim to keep progressing after releasing Misdaventures, their first album since 2012's Collide With The Sky. If you're looking for a good show, lots of fun, and some really good music, Pierce the Veil is a band you don't want to miss out on at this year's festival.
For Fans Of: Sleeping With Sirens, From First To Last, Get Scared
For a Taste: "Dive In" from Misadventures
The Pretty Reckless
Despite having a lead singer who rose to fame through the television program Gossip Girl, this band knows how to throw down. Playing a fun variety of hard rock, the band combines a heavy rhythm section, guitars and bass layered in various fuzz and distortion effects, and Taylor Momsen's vocals. If you're looking for a good time with a band that knows how to have fun onstage, The Pretty Reckless is the band for you. Make sure to see them at this year's Welcome to Rockville festival.
For Fans Of: Halestorm, New Years Day, Tonight Alive
For a Taste: "Heaven Knows" from Going to Hell
Highly Suspect
Welcome to Rockville has been known to showcase some of the most exciting up and coming acts and Highly Suspect is definitely one of those acts. The trio's hard rock has been taking the community by storm leading to their albums becoming Grammy nominees and their latest album peaking at number 1 on the U.S. Mainstream Rock charts. Want to see a high energy act with fuzz drenched instrumentals paired with catchy choruses? Or do you simply want to see what all the hype is about? Either way, be sure to catch Highly Suspect at Welcome to Rockville. You won't be disappointed
For Fans Of: Royal Blood, Pop Evil, Death from Above 1979
For a Taste: "Lydia" from Mister Asylum
Eagles of Death Metal
It's fun. It's upbeat. It's riff heavy. It's Eagles of Death Metal. The band is from the brains of Queens of the Stone Age's Josh Homme and his lifetime friend Jesse Hughes. The band has got fuzzy guitar, groovy basslines, pounding drums, and Josh Homme's signature vocal delivery. If you like dancing, having fun, and catchy songs, then Eagles of Death Metal is the band for you?
For Fans Of: Queens of the Stone Age, Wolfmother, Black Rebel Motorcycle Club
For a Taste: "Miss Alissa" from Peace Love Death Metal
In Flames
This Swedish band is known for having gone everywhere from death metal to hard rock. The band started out when founding member Jesper Strömblad started the band in order to express his creativity and be at the forefront instead of being in the background like he was with Ceremonial Oath. The band takes influence from the legends of metal but it has a touch of the aggressive Swedish metal that has become so legendary across the world. If you're looking to headbang, listen to some crazy technical music or both, then make sure you catch In Flames when they take the stage.
For Fans Of: Children of Bodom, Arch Enemy, Scar Symmetry
For a Taste: "Only for the Weak" from Clayman
---
The Rest of Saturday's Exciting Lineup:
All That Remains
Genre: Metalcore
For Fans Of: Killswitch Engage, Lamb of God, August Burns Red
For a Taste: "Two Weeks" from Overcome
Starset
Genre: Alternative Rock
For Fans Of: Saint Asonia, Devour the Day, Like a Storm
For a Taste: "My Demons" from Transmissions
Dinosaur Pile-Up
Genre: Alternative Rock
For Fans Of: Them Crooked Vultures, JEFF The Brotherhood, The Raconteurs
For a Taste: 11:11 from Eleven Eleven
I Prevail
Genre: Post Hardcore
For Fans Of: Wage War, Beartooth, The Word Alive
For a Taste: "Scars" from Lifelines
Volumes
Genre: Metalcore
For Fans Of: After the Burial; Invent, Animate; Veil of Maya
For a Taste: "Edge of the Earth" from Via
Crobot
Genre: Hard Rock
For Fans Of: The Temperance Movement, Scorpion Child, Black Label Society
For a Taste: "Plague of the Mammoths" from Welcome to Fat City
Frank Carter and the Rattlesnakes
Genre: Hardcore Punk, Alternative Rock
For Fans Of: Gallows, Gnarwolves, Hot Water Music
For a Taste: "Lullaby" from Modern Ruin
As Lions
Genre: Rock
For Fans Of: Good Tiger, Out Came The Wolves, Wovenwar
For a Taste: "Aftermath" from Selfish Age
Badflower
Genre: Rock
For Fans Of: Beware of Darkness, Citizen Zero, Black Map
For a Taste: "Soap" from Soap
Goodbye June
Genre: Alternative Rock
For Fans Of: Royal Tusk, Night Riots, The Virginmarys
For a Taste: "Man of the Moment" from Danger in the Morning
The Charm The Fury
Genre: Metalcore
For Fans Of: While She Sleeps, Northlane, In Hearts Wake
For a Taste: "Echoes" from The Sick, Dumb & Happy
---
For more on 2017 Welcome to Rockville, be sure to visit scadradio.org.