Come on SCAD Radio let's get sickening!
The latest episode of Ru Paul's Drag Race aired Friday night and things are finally starting to pick up. With the first episode's no elimination challenge and new cucu competitor, things have been struggling to motivate. (No offense to James Mansfield and Kimora Blac: James was just in the wrong place at the wrong time and Kimora gained some sympathy from the audience with her farewell on Untucked. However, I will not excuse the throw away character that was "Banana Lady.")
This week's challenge was to host a live morning news show with Aja and Trinity Taylor as the team leaders. Aja's plan to keep her enemies close may have kept her safe for the week, but if she keeps up that bitter attitude, her chances of making it any further will be as slim as Valentina's cute little chicken legs (that were surprisingly average on the runway this week.) Sasha Velour and Shea Coulee's performances, on the other hand, blew me out of the water.
Once again, Nina Bo 'Nina Brown has been pushed under the rug and still managed to shine as her group crumbled around her. Trinity Taylor's character was as stiff as her new cheekbones and it seemed like everyone was struggling to get a word in without stuttering, Peppermint being the most notably challenged. Charlie Hide seemed to be at risk of a heart attack the entire time, not because of age but because of her unraveling sanity. And while I understand Cynthia Lee Fontaine's shtick is all about her accent and her "cucu," but after two seasons of this, I'm starting to get flashbacks of Shangela, the queen who never left (Halleloo when she did. I loved her dearly, but that horse was dead, buried and rotted away long before they decided to stop bringing her back.)
One would think that the longer the show runs, the fiercer the competition and the higher the standards for quality of drag, but that doesn't seem to be the case so far. This week's runway looks were nightgowns and by the end of it, you could clearly separate the heathers from the boogers and the few that just didn't cut it this time around. While some people, such as Aja, are slowly but surely applying their critiques, others looked forgettable.
Highlights
Drama level: too high to care. Really, girls? You're going to argue about whether or not it's offensive to make jokes about eating disorders? The childish drama got old after the Alyssa-Coco war of 2013.

Ru Paul's look of the week: Girl, you have endless streams of income. You can afford a new wig.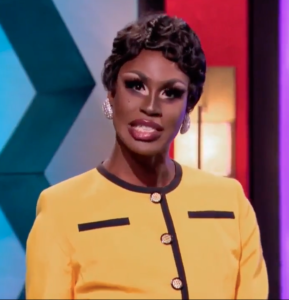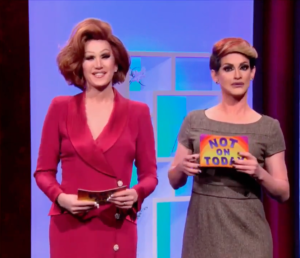 Favorite look of the challenge: Shea Coulee with Charlie Hides as runner up. I mean, come on. She's 52, how is that even possible?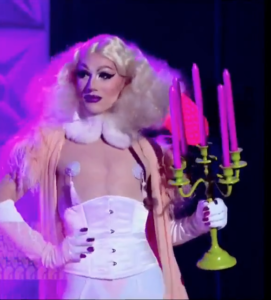 Favorite look on the runway: Sasha Velour and her reliable props.  Look at those tasty pasties.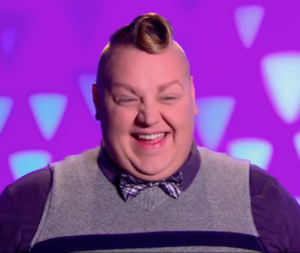 Queen of the week: Eureka. Partially because of her unsavory behavior, but mainly because of this face.
Lip Sync: Trinity Taylor turned it OUT, giving us one of the best performances in a good while. Charlie, quite frankly, made me angry. I understand being stuck in your ways, and I understand the importance of live performance, but giving up like that is shameful. Tammie Brown already did the "this is it" final sway in Season 1, recreating that is not only an insult to yourself, but to Tammie Brown. AND NO ONE INSULTS TAMMIE BROWN.
As Charlie Hides says goodbye to the season, she will not be forgotten. Despite the poo-poo attitude, Charlie represents all the older queens that deserve a chance to hold their own against the newer crowd of drag. Hearing her goodbye letters from the other girls, "This is not Ru Paul's Best Friend Race, b*tch" rings in my ears and I feel pride for the evolution this show has made in camaraderie.

2.5 out of 5 Farrah frowns
Stay tuned for next week's episode on Friday and the review on Sunday!