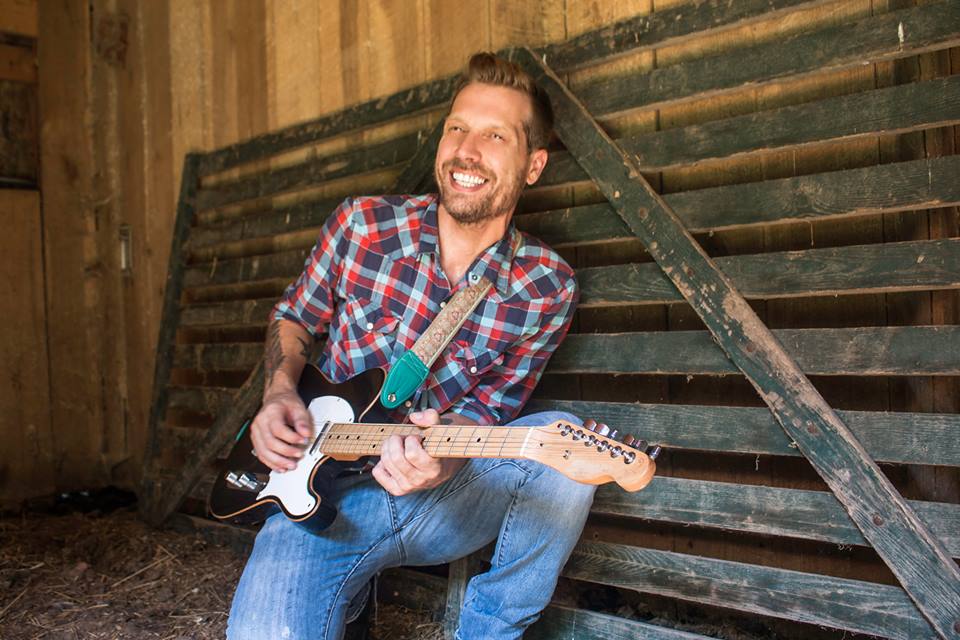 SCAD Radio recently had the opportunity to get on the phone and chat with musician Andrew Carter.
Andrew Carter's self titled album, released earlier this year, is a seductive mix of rock and country. The music calls to mind the music of Americana greats like Lynyrd Skynyrd, The Allman Brothers Band, and Hank Williams Jr., which make Carter the perfect man to be leading the revival of classic style country-rock.
Here's a look at SCAD Radio's interview with Andrew Carter.
---
You released your self titled album at the beginning of this year. Is there a song off of that album that you'd recommend as an entry point into your music?
Well, it really depends on whether you want a fast song or a slow song. On the slow song side, I'd have to say my favorite and the one that is most descriptive of me as a writer would be "Six Thousand Miles." That's a nice slow song about hitting the road and going the distance for what you love. I really like that song a lot and I think a lot of other people will too. On the faster end, "Ghost of Me" is one of my favorites. It's a little bit more of a honky tonk song about getting older and what that means as somebody that used to be a bit of a hellraiser who's not so much anymore. I think both those songs are good jumping points into who I am as a writer.
What was your experience like recording this album?
Oh man, my experience with this album is way different than any I've ever had before. My biggest difference in how we've done it now versus how we've done it before is the time I've put into it. I've put a lot of time into this album.
I put a band together in order to get this album together. I didn't have a band already, but I knew I needed one in order for these songs to come to life. I recorded six songs down in Florida and I knew they needed to come to life more than that and I happened to know the right people. I had friends up in Nashville that I knew could do it. We got together and kind of just worked them out live. We decided to listen to the people and listen to what they had to say about the songs. We played thesesongs live for about a year before we even stepped into the studio.
That made a huge difference in how we recorded this. The difference was that we didn't spend a lot of time in the studio figuring stuff out. We know what we wanted and we knew how we wanted it to sound. We also went to an analog studio up in Nashville and that opened up some doors –and closed some as well. But that certainly amped up the experience as well. When you do a take, you can't go back and fix it too many times. After a certain time, you're losing the continuity of the take. You know, you want to get it right at least the first five times. And the band I went in with, The Bumbs — on their own, they're one of the best bands that I've ever known. And I've known some pretty damn good bands in my life. And working with them and being with them has been great for getting in and out and make it cool and make it a great experience for everyone involved.
I really attribute the whole experience to recording with The Bumbs. And working with tape really helped solidify what we were doing. It was a lot of fun. It was probably the best experience I had recording.
Were there any struggles that you came across during the recording process?
Not really. All the prep we did with getting the songs down as well as getting in the studio and talking with Eddie, the engineer, about microphones and getting all of that set up and figuring out a few set ups really helped. We didn't really run into any struggles or anything. I have a record label now and their support really helped as well. There's two sides to it. One of those halves is me. The other is family. All their support really helped as far as not having to worry about how we're going to pay for it and stuff like that.
I didn't come across any struggles. This album was meant to be. I was meant to record this album. I was meant to do it the way we did it.
It did sort of start out difficult, though. We went through a studio beforehand and we worked on it and we weren't getting the sound that we were looking for. We weren't getting the feeling we were looking for. That would have probably been the only struggle that I had to deal with. But after that, when we got into the studio, there were no struggles.
It sounds like the perfect situation for recording.
It really was. I couldn't have asked for a better situation or a better band to back me up. The studio itself, The Bomb Shelter, and the guy that engineered it – that helped a lot. He understood me a lot and it really helped pick the right microphones and the right amps and all of that. And the guy that mixed, he's mixed some pretty great musicians before we came along. Everyone that came together in the studio really helped make it great.
Is this your first time working with The Bumbs and this engineer?
It's my first time working with The Bumbs and this particular engineer. It is also my first time recording my own music with The Bumbs. I have actually produced a Bumbs demo album about three years ago in Nashville. So, I've been working with The Bumbs for a while, they just haven't always been my band.  
How did you come across the inspiration for what to write your songs about?
I write the truth. You know, for so many years I've been with so many bands and projects in so many different genres and for a long time I was just writing songs to write songs. And nobody paid any attention — myself included — until I started telling the truth. I started telling the truth as far as what was on my mind and I wasn't sugar coating it or holding back if it is gritty and dark and I am having fun with it if it is lighthearted. [laughs] So really, I pull all my inspiration from the truth of my life and the lives of people I'm involved with. The song, "Long Road Home," is about my friend and how she went out to California and got an RV and was driving it back. We were talking back and forth as she was doing it and she was going through some troubles back in Nashville and she was clearing her head and that's what the song is about. It's a truth of my life and a truth that was happening at the time that I was writing it. And so, my greatest inspiration is that I just pull it from the truth.
Now, you're a guy who grew up in the South. Has that influenced you in anyway? Does the region play a part in your music?
Yeah it does, especially on this album and a couple albums a long time ago. Just the sheer knowledge of the region alone has helped with the writing process. Just being able to cite landmarks and things like that. Actually knowing what you're talking about and which direction you're going on on the interstate when you're talking about those landmarks certainly helps a lot. Growing up on a farm as a kid definitely helps with some inspiration for these songs.
I've lost most of my southern accent over the years but it shines through here or there. It really comes out in my writing because I want my songs to be as natural as they can upon delivery. So when I sit down and get real, that's the voice that comes out of me. You know, we had trucks and we drove them and we got in trouble. We had to jump a few fences here and there. Growing up in the South is definitely an influence as far as how I write and how I perform. But I also love the entire United States. I just did a huge tour, a solo acoustic tour across the country here and back. I watch documentaries on America all the time and I just love all of it. It's always nice to come back home. Not necessarily to the South, but to home in general. You know, family and my friends. But I think I owe a lot of what I am to being from the South and growing up around the culture there. Especially the music and growing up around people listening to the sounds of the South. That was great inspiration for what I'm doing today.
You grew up playing drums and then more recently had a dance-pop project, Masseyvibe. Did either of these projects help you grow into your current southern rock sound?
No, not really. Just growing up, listening to the radio. You know, Marshall Tucker, Lynyrd Skynyrd, Charlie Daniels, the Crowes and just a bunch of those type of people. That's really what got me to the sound I have now. If you listen to it and can't tell that Lynyrd Skynyrd was an influence, then you aren't listening to this album. I can't really say that Masseyvibe — which was a blast — doesn't really have anything to do with my current sound. Now playing drums, I can attribute that to everything I've ever done. Drums started it for me and keeps it going for me. And on any album that has live drums, I can communicate with the drummer that I've brought on for the project in a way that drummers can communicate. That helps me out a lot, especially on this album. You know, two drummers got together and put this album together. Now to say that either of these things helped me grow into my southern rock sound — I can't say that it did. But they certainly both kept my love for music going and that's pretty important to me.
Are there any albums or artists from other genres that have helped shape you as a musician and songwriter?
Absolutely. If it wasn't for the bands that I heard on the radio and the bands that they used to play on MTV, I wouldn't have ever cared about music. The Rolling Stones — just number one as far as rock 'n' roll goes for me. As far as I can remember hearing The Rolling Stones' music, I've been loving what I hear. As I said earlier, The Black Crowes have influenced me a lot. And they're not country or anything, they're just kind of rock 'n' roll. But I can get into everything. There's a bunch of rappers I can get into. Old school rappers and new and what's going on in the underground. There's a lot of underground club rap that I really like. Skater rap is what they call it because a lot of them are skateboarders as well as rappers. I've been into them a lot. But yeah, The Rolling Stones were the first album I ever bought. That's just exciting music to listen to and it got me excited to see what they would do with their next song. Paul Simon is a big one that always surprises people. The Graceland album — it changed my life. I can't tell you how many times I've covered Graceland in Nashville and many other places. Paul Simon and The Rolling Stones were pretty much everything for me and knowing that I wanted to be a part of what they were doing. I would definitely put those two right up at the top of the list.
Is there a new album currently in the works?
Well, I've actually got two that I'm working on right now. There's going to be one called Songs I Love, and that's exactly what it is. It's going to be a collection of songs that I love and a couple of songs that I wrote. I've also got an all acoustic, all original later on in addition to the covers album that I've got coming out in the spring of 2018. When I say all acoustic, it's still going to have drums and percussion and all of that. But it's going to be keeping the electric guitars down to a minimum. So I've got those two in the works and I'm really excited about those and working with The Bumbs on both. I've never put out an all acoustic album before, so I'm pretty excited to see how that sounds at the end of it all.
What else is coming up for Andrew Carter?
I've got touring and shows coming up in 2018. I'm down in Florida and we had this hurricane coming and we were prepping. Now, we've got a lot of cleaning up to do. So that kind of put a hold on a couple of things. But we've got some shows coming up later this year up in Atlanta and up in Nashville. I've got a couple videos I'm working on right now. I'm working on "Ghost of Me" which is going to be a lyric video. We're also working on a video for a song called "The Weekend" off of this album. That's just going to be a fun, big deal. I've got my own record label called DogSong Records and we're going to be seeing what that's all about and figuring out the best thing to do as a label owner. That's going to take a lot of time. Next year is when we start getting out on the road big time and play some shows and some festivals and a couple club dates and hopefully some radio shows. So, we've actually got a lot coming up and if you go to the website, all that stuff's up there.
Anything else you'd like the SCAD Radio community to know?
Well, speaking of the website, you can find me at andrewcartermusic.com. We've got a lot of stuff up. Some photos and some music is up there for streaming and purchasing if you need to and some calendars. Also, you can check me out on Facebook at facebook.com/andrewcarterforreal. I do have some merch that we're working on. We're going to be coming out pretty strong with merch in 2018. We've got some cool t-shirt designs that a buddy of mine and I are working on. Just go through and let me know you're there and talk and hopefully I'll see you out at some shows.
---
Stay tuned to SCADRadio.org for the latest and greatest in music news.