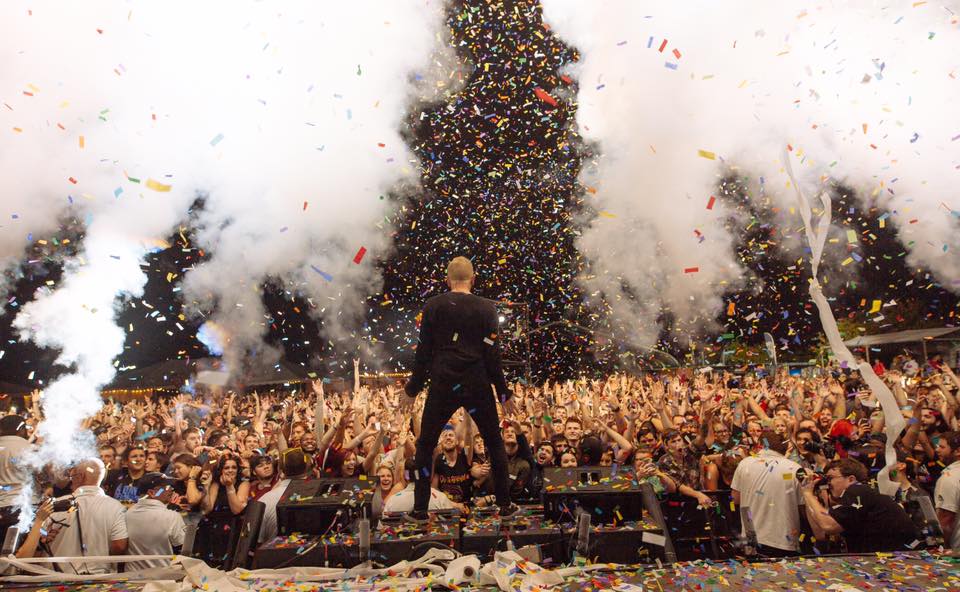 Festival season may be coming to a close, but it's not over yet. On Saturday, September 30th, A Day To Remember's Self Help Fest reaches Orlando, FL. With a stacked bill from top to bottom, the festival looks to have some of the best bands in rock and metal coming together to promote a message of mental wellness.
Sound exciting? We know. Here's our guide to the 2017 Orlando edition of Self Help Fest.
---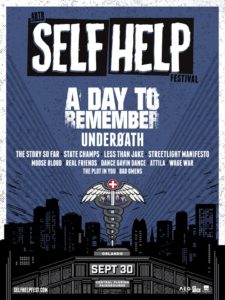 A Day To Remember: These boys are considered to be Pop-punk heavyweights. Florida natives, the band begun in early 2003. Releasing six studio albums ADTR seem to only be getting better with age and have toured with almost every band across the spectrum of punk and metalcore, including Of Mice and Men, Bring Me The Horizon, Asking Alexandria, Mayday Parade, All Time Low and Blink-182. They've earned their place among the legends, and thanks to frontman Jeremy McKinnon will be headlining their annual Self-Help festival, an attempt to give back to their fans and raise awareness about mental illness. Regardless of the outcome, September 30th will surely be a night to remember.
Genre: Pop Punk/Post Hardcore/Metalcore
Recommended Track: "Have Faith In Me"
Underoath
Originally starting out in 1997, Underoath is one of the most influential metalcore bands to have ever hit the scene. Featuring everything from abrasive screams to pristine cleans to hypertechnical instrumentals, it's no wonder the band has captured the hearts of thousands. After a reunion in 2015, the band has been touring very heavily and even just finished up a tour with Bring Me The Horizon and Beartooth, following their headlining of Self Help Fest 2016 alongside A Day to Remember. Be sure to catch Underoath on September 30th for some of the best metal to have ever been made.
Genre: Metalcore/Post Hardcore
Recommended Track: "In Regards To Myself"
The Story So Far: The band have been active since 2007 and have since earned a reputation as one of the most consistent pop punk bands working today. They have released three studio albums and are currently signed to Pure Noise, alongside State Champs. Put on your flannel shirt and khaki shorts and come mosh with The Story So Far at Self Help Fest!
Genre: Pop Punk
Recommended Track: "Empty Space"
State Champs: Originally from Albany, New York, this young band have one solid full-length LP; Around the World and Back (which the band will re-release a deluxe version later this year). These wunderkinds have had the privilege of being featured on Warped Tour twice as well as opening for A Day To Remember.
Genre: Pop Punk
Recommended Track: "Secrets"
Less Than Jake: You can't say you're a fan of pop punk/original 90's ska without noting the importance of Less Than Jake. They've been active since 1992 and have refused to take their foot off the gas pedal since then. Drummer and lyricist Vinnie Fiorello is credited with having co-founded the contemporary label Fueled By Ramen, which propelled acts such as Jimmy Eat World, Fall Out Boy, Paramore, Panic! At The Disco and Twenty One Pilots. 2017 saw the release of the 9th EP Sound the Alarm. The band is also rumored to be releasing new material in early 2018. Catch Less Than Jake at Self Help for a punk rock history lesson and a damn good time!
Genre: Ska-Punk
Recommended Track: "The Science of Selling Yourself Short"
Streetlight Manifesto: Considered Jersey legends, Streetlight Manifesto have indefatigably given their blood, sweat and tears to music since 2002. The past 15 years has seen them put out five consistent releases, the latest of which being 2013's The Hands That Thieve. If you're ready to skank, head over to Self Help Fest and get into the pit for Streetlight Manifesto!
Genre: Ska-Punk
Recommended Track: "We Will Fall Together"
Moose Blood: A relatively new band, Moose Blood have achieved success in native town of Canterbury, Kent. The release of their 2016 album Blush put them on the UK's map of Alternative Artists to Watch in 2017. Moose Blood also spent the last year touring alongside Self Help headliner A Day To Remember. Be sure to see Moose Blood at Self Help Fest for a healthy dose of emo-twinged pop punk.
Genre: Pop Punk/Emo
Recommended Track: "Knuckles"
Real Friends: The band recently put their sophomore effort The Home Inside In My Head on Fearless Records. It earned them a headline slot on the 2016 Vans Warped Tour. Bearing influences like Brand New, The Starting Line, and Blink 182, the band produces abrasive pop punk featuring an unfiltered look at the struggles of daily life in a way that can only be described as "real."
Genre: Pop Punk
Recommended Track: "Late Nights in my Car"
Dance Gavin Dance: The California group are well known for the blend of Post-Hardcore aggression and rough experimental Funk Rock. Their 2016 album Mothership was received 13th place on the Billboard Top 200. They are currently signed to legendary Punk rock independent label Rise Records.
Genre: Post Hardcore/Progressive Metal
Recommended Track: "Young Robot"
Attila: This rap infused metalcore trio has stood the test of time. Coming from humble beginnings in Atlanta, Georgia, the band formed in 2005 and since then put out six studio albums. Their latest release Chaos earned them a number 2 spot on Billboard's Top Hard Rock Albums of 2016.
Genre: Metalcore
Recommended Track: "Middle Fingers Up"
Wage War: Florida natives, the band have shared the stage with acts such as Loathe, Varials, August Burns Red, Oceans Ate Alaska and expect to see them reuniting with long time pals/Self Help headliners A Day To Remember. Be sure to catch them onstage if you are ready for a set full of breakdowns, screams, and some great clean choruses.
Genre: Metalcore
Recommended Track: "Don't Let Me Fade Away"
The Plot In You: The brainchild of Landon Towers, The Plot In You have been touring and recording since 2010. Hailing from Hancock County, Ohio, the band have put out three critically acclaimed records; First Born, Could You Watch Your Children Burn and 2016's Happiness in Self Destruction. They recently signed on with the legendary Fearless Records and will be releasing new material towards the end of the year. If you're interested in a metalcore band that seems defy all labels and even transcend genre, be sure to be there when The Plot In You takes the stage.
Genre: Metalcore
Recommended Track: "Feel Nothing"
Bad Omens: A progressive metalcore quintet from Los Angeles, California, Bad Omens have seen great success in the last year with the release of their self-titled debut Bad Omens. Standouts out from the release include 'The Worst in Me', 'Exit Wounds', and 'Glass House'. Be sure to catch Bad Omens for some crushing riffs, heavy verses, and soaring choruses.
Genre: Metalcore
Recommended Track: "Exit Wounds"
---
Self Help Fest 2017 – Orlando
September 30, 2017
Central Florida Fairgrounds – Orlando, FL
Doors: 2:00 P.M.
ALL AGES
---
Keep it locked to SCADRadio.org for the latest music news.