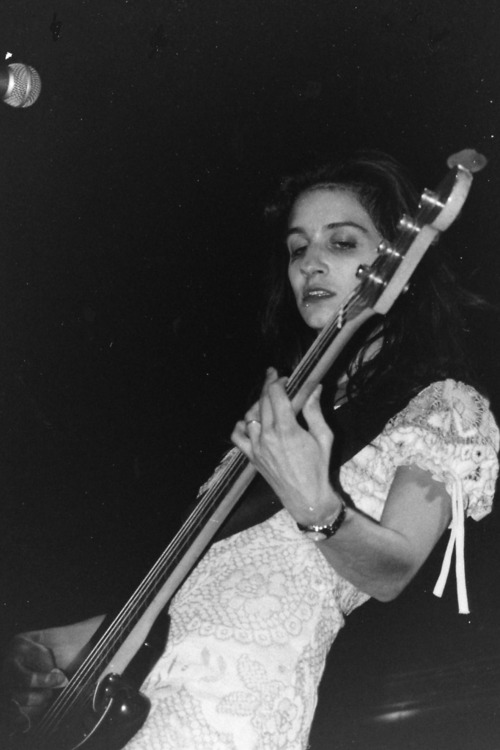 The late Kristen Pfaff was an indie-rock icon of the in the nineties, formerly of the bands Janitor Joe and Hole.  When asked to describe her daughter, Janet Pfaff stated, "She was a driver, not a passenger." Janet is also the author of a book about Kristen's time as a musician called "Unfinished Rhapsody: The Other Side of Fame."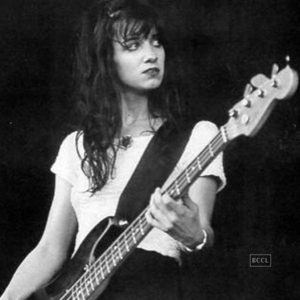 She earned her place in the grunge-era with the best of them, including her peers in famed Seattle indie-rock group Nirvana.  Alongside late Nirvana frontman, Kurt Cobain, Pfaff has not received recognition for what proved to be a lifetime of achievements, most notably a skilled bassist and gifted songwriter. For Pfaff, the rock group she is most associated with tends to shine a negative light on her life, ignoring many of her greatest accomplishments.
Kristen Marie Pfaff was born May 26, 1967, in Buffalo, New York.  Her mother remarried when Kristen was a toddler, taking the surname of her new husband Norman Pfaff. Together, the Pfaff's had a son, Jason, who today still resides in Buffalo working as a musician. The Pfaff children seemed to have an aptitude for music. Kristen was a child prodigy of sorts, showing early skill as a cellist and a classical pianist. Her talent led her to the University of Minnesota where she pursued Women's Studies with a minor in English Literature. She was also DJ for the college radio station.
At the University of Minnesota Pfaff' was committed to feminist principles and the fight for equality for women. Pfaff volunteered at her campus providing support to victims of sexual assault, rape, and domestic violence as a counselor and partaking the local rape-crisis line called Restore of the Sexual Violence program (which at times offered superb self-defense classes for women). Her most remarkable feet as an activist was her participation and organization of the 24 Hour No Rape Zone, which was since 1990 was an annual event on campus. Pfaff's intent was to raise awareness about the growing issue of assault on college campuses around the world.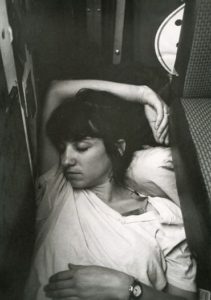 During this time Kristen would eventually circle back to her love of music and inspired by the spirit of punk rock, she began to teach herself bass guitar. She would later cross paths with local musician Joachim Breuer and the two would forge a songwriting partnership. Not too long after that they enlisted the talent of drummer Matthew Entsminger and with that Pfaff's first musical project came to light: Janitor Joe.  The following year in 1992, Janitor Joe began touring relentlessly across the country and pressing singles and 7inch releases such as Hmong, Bullethead, and Boyfriend.  The Minnesota trio drew influences from a sea of early hardcore punk bands in such as Bad Brains, Minor Threat, and Youth Brigade.
Within a year Janitor Joe would gain underground recognition in Minneapolis, which inspired countless other musicians in the area to start bands. After gaining momentum in the scene the band decided they would embark on their first country-wide tour, of the band's early days and touring Janet remarked, "When she and the other two members of Janitor Joe came to me to borrow $1000.00 for a van to start a national tour, I didn't hesitate because of their excitement, enthusiasm, and talent." Once the band had reached California however, Kristen's life would be forever altered. After a performance in Los Angeles, Kristen was approached by members of grunge band Hole and was proposed with the idea of playing bass for them. Pfaff declined and continued to write and tour with Janitor Joe for some time.
But after some heavy consideration from other figures in her life, she had decided to move to Seattle, Washington in 1993. Once there she was recruited as a bassist for Hole and contributed a fair amount to the songwriting process. Those songs would eventually turn into Live Through This, which is to date the group's most successful and acclaimed work. That year would Kristen receive superb international recognition for touring alongside Hole. However, after major disagreements, tension and negative media coverage, Pfaff eventually left the band in early 1994, with plans to return home. These plans were never realized as she, unfortunately, passed away on June 16, 1994, the official cause of death being ruled as an opioid overdose. Kristen's legacy is immortalized through her commitment equality, her mother's efforts to raise awareness about opioid addiction and most importantly her passion for music. Kristen Pfaff was truly an underground hero, with a potential that was yet to be tapped.