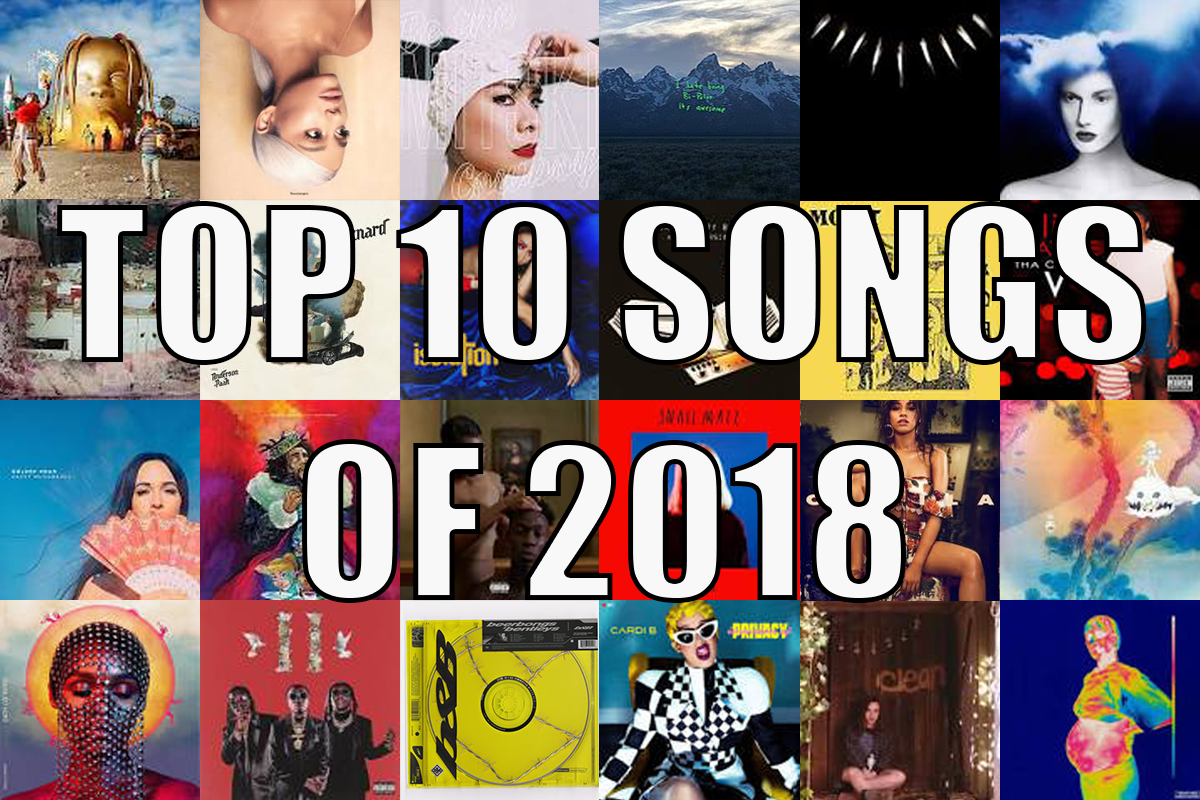 2018 was full of head-turning happenings, especially in the realm of music. Industry headlines ranged from intelligent music videos, movie soundtrack chart battles, and whatever the hell 6ix9ine was doing.

As with the conclusion of any Earth cycle, it's time for SCAD Radio's favorite tracks that made 2018 suck less. After rigorous debate and a sophisticated voting process, we have rounded out our overall choices for the 10 best songs of the year.

Also be sure to check out our top 10 albums of 2018.

#10- Nice for What- Drake

For the most part, it seemed fans loved Scorpion "only partly". While much of the LP fell flat, "Nice For What" brought more of the upbeat and fun music Drake has become a household name for. Taking a bite from Lauryn Hill's "Ex-Factor", the Canadian rapper constructs a women's empowerment tune complete with a star-studded music video of famous females.

Listen here.

#9- Tints- Anderson .Paak feat. Kendrick Lamar

The funkiest man in music right now teams up with rap's reigning king for a nostalgic bop. Fans anticipating the lead single for .Paak's third album, Oxnard, got what they wanted. "Tints" begins with a delicious '70s-centric disco beat as the Dr. Dre. prodigy and Lamar dive into their distaste for the paparazzi. Channeling his inner James Brown, Anderson .Paak summons perhaps his flashiest tune to date.

Listen here.

#8- Make Me Feel- Janelle Monáe

Bubbly, catchy, and clearly Prince-inspired, the single to Dirty Computer warps the pop & R&B styles the electric lady is known for mixing. With that finger-snap bassline to the "bass drop" chorus of sorts, "Make Me Feel" made us feel "so f*ckin' real".

Listen here.

#7- Fists of Fury- Kamasi Washington

Clocking in at nearly 10 minutes, the opening to Kamasi Washington's Heaven and Earth is nothing short of epic. A fight song at heart, but a jazzy ballad for the ages nonetheless, the saxophonist's combination of roaring brass and racing drums ensure that listening to "Fists of Fury" only through headphones limits the thunderous experience.

The full track isn't available on YouTube, but you can listen to a live version here.

#6- Cool- Soccer Mommy

A ringing yet soft guitar carries us into the underdog world of one of indie rock's most promising stars. "Cool" details the girl who's too good for you through the eyes of the girl on the sidelines, Soccer Mommy. Capitalized with a simple chorus that'll have you belting out "you-ou-ou-ou"s of your own, one of 2018's best breakouts finishes the track with a nicely done slow fade-out.

Listen here.

#5- High Horse- Kacey Musgraves

The disco-pop glitz of "High Horse" would never leave a first-time listener to guess Musgraves is a country artist. The songwriter ventures further and further away from the genre she once called home, and in all the right ways. The danciest track from the terrific Golden Hour wonderfully displays the Texan evolving far beyond her comfort zone.

Listen here.

#4- All the Stars- Kendrick Lamar & SZA

The end-credit tune from Marvel's groundbreaking Black Panther movie shines thanks to two of Top Dawg Entertainment's finest hitmakers. Kendrick Lamar's motivational verses in the guise of T'Challa complement the superhero's story, and SZA's powerful vocals anchor the uplifting chorus. Wakanda forever indeed.

Listen here.

#3- This Is America- Childish Gambino

When Donald Glover and his stage name Childish Gambino were announced to be the host and musical guest for Saturday Night Live, it served as a conformation of new music. The same night Gambino performed at the New York venue, the music video for the America-criticizing song was unleashed for the internet to interpret. He surprised everyone with the psychedelic shift in genre on songs like "Redbone", but Glover made an even bigger splash with this instant classic and it's mind-boggling video.

Read our review for the iconic music video here.

Watch the music video here.

#2- Nobody- Mitski

Everyone experiences loneliness at some point in their lives, even if you're an indie giant like Mitski Miyawaki. Starting with a light percussion tap and concluding with a roof-raising chant of the track's title, the Japanese-born singer/songwriter pairs feelings of isolation with a bouncy riff that launched her from underground to indie fame.

Listen here.

#1- Feels Like Summer- Childish Gambino

If you haven't realized by now, it was a big year for Donald Glover. Following the cultural phenomenon "This Is America", the music world couldn't expect what the multi-talent would do next. In sync with the "jigsaw-puzzle" vibe of the former, "Feels Like Summer" tactically misled viewers on a seemingly relaxing animated bit with various rappers and public figures from J. Cole to Michelle Obama. Even the video's finale of Gambino entering his house as the sun sets is thought to reference the rumors his upcoming fourth album will be his last. Nevertheless, for those of you who didn't know, the song is actually about climate change and global warming. Yeah.

Listen here.