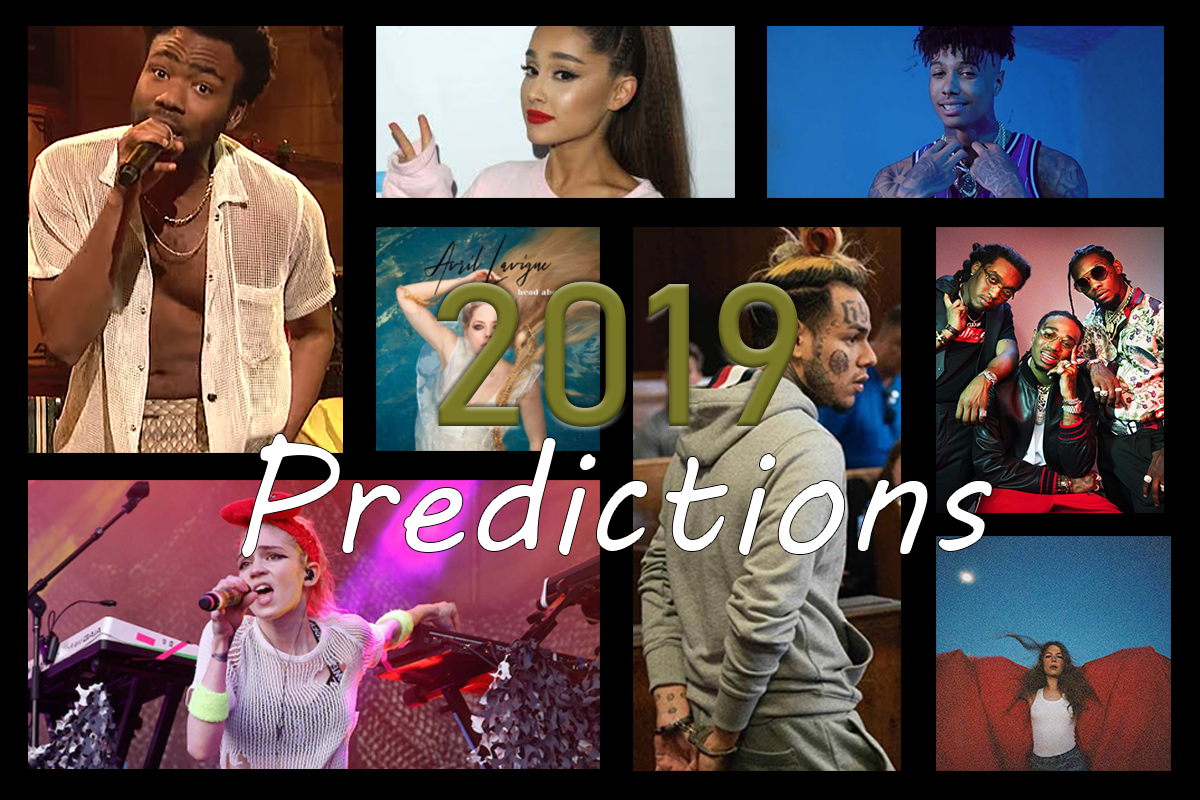 2018 is (thankfully) behind us, so it's time to look forward to an exciting year for music. Before we take to social media in a few months to complain about how 2019 is the worst year we've had yet, let's take a moment to highlight SCAD Radio's bold predictions for the next 12 months.

Childish Gambino will release his 4th and allegedly final album.

Despite not putting out an EP or album, Childish Gambino did more than enough last year with spectacular songs- nay- "experiences" like "This is America" and "Feels Like Summer". He hasn't had an LP since 2016, so the chances of a fourth full-length are more likely than ever. On top of that, he's presumed this record will be his last. As for the Gambino stage name, some speculate he'll continue to make music under his regular name or a perhaps brand new moniker. Only time will tell.

6ix9ine will be sentenced to prison.

The most hated rapper on the planet made headlines with his trashy music and even trashier behavior. The rainbow-haired man behind "Gummo" first got involved with the law thanks to a sexual gesture caught on video with a 13-year-old girl, but now faces a minimum of 32 years in prison for armed robbery, distribution of drugs, and conspiracy to commit murder. Hopefully this untalented jackwagon gets locked up for a very long time to spare our children from his pedophile demeanor and horrendous music.

Grimes will have the best album of 2019.

Claire Boucher's work progressively gets better with each release. The Canadian artist didn't make too many waves with a pair of albums from 2010, but wowed with songs like "Oblivion" and "Genesis" on 2012's Visions. Then in 2015, she released the ebullient Art Angels to widespread acclaim. Last November, she dropped the ferocious "We Appreciate Power", a spine-tingling nu-metal revival that hints at an AI-takeover theme for the upcoming LP. In the pinnacle of her career, Grimes is poised to conquer 2019.

Avril Lavigne's comeback album will please, but won't be enough to bring her back to superstardom.

Lavigne's career has been on the down since she reached the top of the world with classics like "Sk8er Boi" and "Complicated". It's only been a few years since that abysmal "Hello Kitty" song & cringeworthy music video, but the emotional titular single for her next LP assures Head Above Water will be a different story. The album is out February 15th, and the possibility of Lavigne creeping back onto playlists seems imminent. However, while the single is a respectable rewelcoming ballad for the early-2000's icon, it was inferior to last year's more memorable career 180° track, Kesha's "Praying". It'll confidently be her best work since 2002's Let Go, but Lavigne's days on top are behind her.

Blueface will have the worst album of 2019.

Whether you thought Blueface's odd breakout "Respect My Crypn" was innovative or pathetic, it was undeniably entertaining to hear (and even more entertaining to scroll through the comment section). The intentional(?) lack of synchronization of the beat and the rapper's awkwardly high-pitched bars granted a memeworthy tune. It remains to be known what the LA rapper will do next, but we shouldn't expect much from a potential mixtape or LP. Even those who found the gig clever won't enjoy the schtick stretched out to a full-length release.

Maggie Rogers will be 2019's best breakout.

As a college student in 2016, Maggie Rogers became a viral sensation during a masterclass session with Pharrell Williams. Her folk-inspired pop brand captured the heart of the longtime producer, as well as execs to spawn her 2017 EP, Now That the Light Is Fading. On January 18th, her debut full-length will hit streaming services. Heard It in a Past Life contains "Alaska", the track that made her famous, along with singles she performed on her recent Saturday Night Live gig. Already touted as a prodigy, the Maryland singer is set to surge this year.

Ariana Grande will date Michael B. Jordan next.

No one else in music garnered as much E! News attention last year as Grande, following her quick engagement and even quicker split from SNL star Pete Davidson, plus the sudden passing of her former lover, Mac Miller. Still, the singer persevered with the honest and mature Sweetener, then magically crafted praise for her many exes in the fantastic "thank u, next" single for another album set for this year. Many speculate who the star will date next, and I think it'll be Black Panther star Michael B. Jordan. Think of it: blending Killmonger's cruel attitude yet traumatic past with Ari's diva ego and aforementioned recent heartbreak makes for one hell of an "it" couple.

Migos' Culture III will have some fun tracks, but will overall be a disappointment.
In 2017, the Migos album Culture brought trap rap to the forefront with bops like "Bad and Boujee" and "T-Shirt". A year later, they dropped the sequel to far less praise. While it certainly had its moments, Culture II was bloated and repetitive across a 24-track length that was clearly extended to rack up streaming numbers. Further on in 2018, Quavo and Takeoff unleashed solo albums that didn't show any signs of improvement. With Culture III around the corner, the Atlanta trio could expect a few hits, but if the LP is as drawn out as its predecessor, the project as a whole will fall flat.