The situation of how I ended up seeing Harry Styles is still kind of baffling. It's not everyday you answer a Facebook post and end up seeing the most beautiful man ever created.
On the first leg of his debut solo tour, Styles came to the Roxy Theatre in Atlanta on October 8th. During my dreary 8am on the Tuesday before the show, I opened my facebook to see that the first post was from a girl looking for someone to come with her to Atlanta to see Harry Styles. The thoughts that ran through my head in this moment were as follows:
"That would be so awesome."
"I could totally go."
"I probably shouldn't."
"When am I ever going to get the chance to see Harry Styles in my life, though?"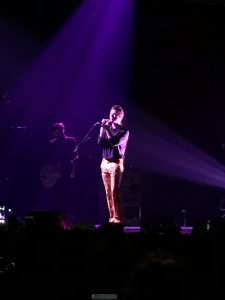 With her post only having been up for 5 minutes, I responded immediately to her message, telling her that I would totally go with her. I didn't know this girl at all, I didn't know how much the tickets were or where the seats were, I didn't even know that Harry Styles was going to be in Atlanta that weekend. My caution was thrown to the wind.
So, this past Sunday, I found myself in the passenger seat of a car with a girl I met the day before. The drive to Atlanta was roughly four hours, so we got to know each other pretty well in the total of eight hours we were in the car together that day.
Harry Styles show was at the Roxy Theatre. I had never been to this venue before for a concert, and as soon as I walking in, I understood why this place for chosen. Red fabric draped from the walls and six giant chandeliers hung from the ceiling. This venue screamed Harry Styles.
His opener for the evening was Muna, a dark pop punk female band out of California. In the past, they've performed at Lollapalooza and have opened for Grouplove. Their own personal style matched very well with that of Harry's, with a lot of purple, red, white, and floral. I would best describe them as something like vampires that have come out of the 1970's. They were nice to listen to, even though they were only on stage for half an hour
A curtain fell over the stage as the prepared for Harry to come on. Through a dramatic spotlight, he stood behind the curtain, his silhouette something that of a young Bob Dylan. When the curtain fell, I almost thought he was a young Bob Dylan. Guitar in hand, he wore a black button down and gold patterned pants. He knew he was hot stuff.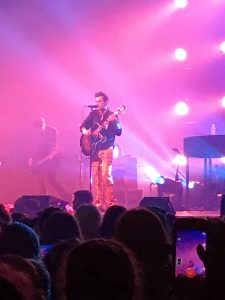 Despite the whole "hot stuff" part, he was amazingly humble. He joked with the audience, thanking us for coming despite only have ten songs. He engaged with the audience in a very intimate way. The venue was fairly small, but still had a general admissions, standing room only section, along with balcony seating. He even completely stopped the show two songs in because some people in the general admissions area needed to get out, and he would call out into the audience for people to let the staff know where these people were.
Harry played everything from his debut album, along with some classics for his One Direction days, like "Story of My Life" and "What Makes You Beautiful". He did covers of Ariana Grande's "Just A Little Bit of Your Heart", which he wrote, and Fleetwood Mac's "The Chain". Because of the audience's well reaction to his performance of his song "Kiwi", he ended up singing it again at the very end, before closing the show with "Sign of the Times"
Because of Harry Styles's cult following, I had accepted the fact that I would never get the chance to see him live. I'm very pleased with my spontaneous action to go see him. He did not disappoint.