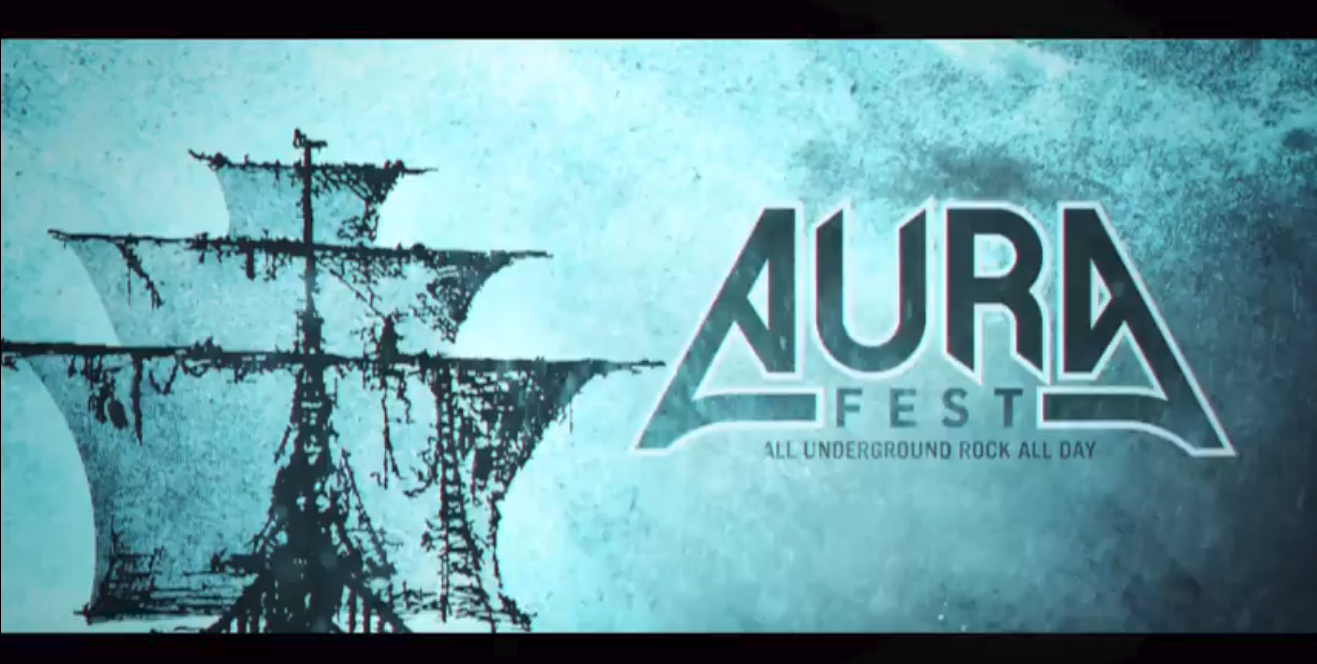 Savannah's AURA Fest returns once again to the Ships of the Sea Museum Gardens on February 17, 2018. What started off in 2000 has now become one of Savannah's premiere metal gatherings, showcasing some of the best local, regional, and national talent. This year's festival is armed with heavy riffs, crushing vocals, food trucks, and surely some rowdy pits. Want to know more? Here's SCAD Radio's crash course.
---
Darkest Hour: From the ranks of the nation's capital, Washington DC, this band has proved to many on a global scale, that with enough hard work and dedication you can accomplish anything. Beginning in the mid 90's, Darkest Hour have toured relentlessly all over the world and have put out nine tight and well-crafted LP's.  Their current release, Godless Prophets & the Migrant Flora sees them collaborating with California legends, Southern Lord, to construct an album solely driven by fan anticipation and approval. Whatever you do this Saturday please make sure you at least get a glimpse of the spectacle that Darkest Hour will surely provide. Or your Hardcore credentials back!
Genre: Melodic Hardcore, Punk rock, Thrash Metal
Bury Your Dead: Bury Your Dead is an American hardcore band from Boston, Massachusetts formed in 2001. To date there are eight releases; one EP: Bury Your Dead, one live DVD: Alive, and six studio albums: You Had Me at Hello, Cover Your Tracks, Beauty and the Breakdown, Bury Your Dead, It's Nothing Personal and Mosh N' Roll, all released independently.
Genre: Hardcore, Metal
Check out our interview here.
Evergreen Terrace: Known for their intense live performances, these guys should certainly be on your list bands to see on Saturday.  Evergreen Terrace has been blazing their own path through the melodic hardcore scene for over a decade, playing along-side some of the biggest names in thrash and punk, including Suicidal Tendencies, August Burns Red, Asking Alexandra, Every Time I Die and New Found Glory. ET are certainly no laughing matter. Their full -length album, Dead Horses, is out across all platforms via Rise Records.
Genre: Melodic Haradcore, Punk rock, Metalcore
Through The Eyes of The Dead: Revered as one of the groups that pioneered the aggressive and abrasive mixture of death metal and hardcore that permeates the modern heavy music landscape, the East Coast-based THROUGH THE EYES OF THE DEAD triumphantly return with Disomus (available on Goodfight Records). As a live act, the band never fails to bring their A-game consistently.
Genre: Heavy metal
I Set My Friends On Fire: Fusing together older influences of emo/post hardcore with a little bit of funk thrown in, I Set My Friends On Fire aims to set themselves apart from other bands with their unique sound that the band describes as "evil funk". The band are currently signed to Tragic Hero Records, have played Vans Warped Tour on various occasions and plan to release their third album, My Uzi Holds A Hundred Round Conscience later this year.
Genre: Electronic, Metalcore, Post hardcore
Separations:  This Atlanta quintet their initial mark with a well-received debut album on Imagen Records, 'Dream Enter' in 2015, produced by James Paul Wisner, who is credited for making sleek sounds of bands such Underoath, Hands Like Houses and Dashboard Confessional.  The band currently have their second full length out on Imagen, Bloom, and spent the summer playing a slot on the legendary Vans Warped Tour.
Genre: Rock, hardcore
The Funeral Portrait: These Atlanta natives make sure they bring the thrash with them wherever they go. Originating in 2014, the band have since seen success opening up for some of the biggest bands in the scene including Alesana, Famous Last Words, Capture the Crown, Escape the Fate and Slaves.  The band is currently on the fast track to world domination thanks to the release of their debut EP For The Dearly Departed now available on Revival Records.
Genre:  Hard rock, emo, post hardcore
Check out our interview here.
No Zodiac: Hailing from Chicago, Illinois, this group plays a sweeping array of what they describe as Brutal death metal. With 2017's gut-wrenching EP, Altars of Impurity, No Zodiac have their Ray Guns set to kill and are hoping to terrorize your children at a venue nearest you!
Genre:  Blood, guts and everything ugly
Vatican: Savannah natives, these boys got their start in early 2015. Since then, they've been consistently playing gigs, be they supporting shows in the Southeast US region they call home or on the road around the country. Their latest EP, Ache Of Eternity, finds the group at their best, melding corrosive vocals with unhinged aggression, groove, and bloodthirsty beat down.
Genre: Hardcore
Check out our interview here.
Second Death: Who better to describe the group then themselves — "Formerly known as Beware the Neverending, Second Death combine skull-smashing heaviness and groove with contagiously catchy melodies and outstanding instrumental harmonies to create a unique and intense breed of heavy music that is bound to ensnare the ears of mosh-hungry metal heads world-wide."  Nough said. Be sure to sure to show these boys some love if you get the chance.
Genre: Heavy Metal, Groove
Check out our interview here.
Icaria: Icaria is an Atlanta based progressive metal band that formed in 2015. The last year saw the release of their debut album, Transcendent, on Cardigan Records.  They've set the sights on a nation-wide tour and are said to be working on new material.
Genre: Progressive Rock, Metal
Great American Ghost: Are a four-piece band from Boston. They have put out two amazing albums on Good Fight Music, Everyone Leaves and 2017's Hatred Stems From the Seed. They are credited with bringing back a certain spark to the modern Hardcore scene.
Genre: Hardcore, Metal
Awaken I Am: After dissolving from the famed band Sleepers, the five members of Awaken I am decided to make music with a focus on pop melodies with heavier instrumentation. Originating from Brisbane, Australia, the band are currently signed to the legendary Victory Records. To date they have released one album on Victory, Shields & Crowns available across all platforms.
Genre: Progressive Pop-Rock
Check out our interview here.
Strengthen What Remains: Active since 2010, this Florida group plays an awesome blend of metal and hardcore punk. In early 2011 they were signed to Blood and Ink Records and have since put out two outstanding full length albums, Humanity and Turning a Blind Eye, as well as an EP entitled Justice Creeps Slow.
Genre:  Metalcore, Hardcore punk
My Last Years: These guys are a five-piece melodic Metalcore band from Savannah, GA. The members all come from a wide variety of musical backgrounds. They intent with bringing some fresh elements to the scene. Look out for these guys.
Genre: Metalcore
Check out our interview here.
---
For more on AURA Fest, keep it locked to SCADRadio.org